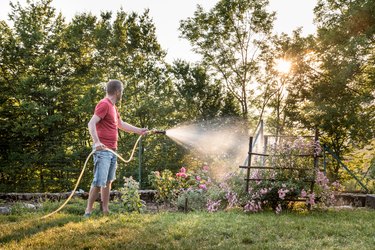 A garden hose is a necessary tool that can be used in many different ways. The job of a water hose is to deliver water from a spigot to your garden, lawn or plants, and sometimes even to wash your car, your dog or to connect to a sprinkler for your kids on a hot day. Choosing the right garden hose that isn't prone to leaks or kinks can make watering your lawn and garden a lot less frustrating. A high-quality hose should last anywhere from five to 10 years if it is properly taken care of—which means safely storing it, draining the water after use and avoiding dragging it around by the spray nozzle, which can weaken the nozzle connection and create leaks.
Whether you're buying your first garden hose or need to replace an old one, there are some important factors to consider.
What to Consider When Purchasing a Garden Hose
​Materials:​ The most lightweight water hose material is vinyl, which is ideal if you frequently move it around your garden, but it isn't as durable as other materials. Rubber and hoses reinforced with rubber weigh more, making them more durable. They can also withstand temperature changes better than vinyl and are less likely to snag, break or kink. Stainless steel garden hoses aren't the most flexible, but they are sturdy enough to withstand getting run over by a car. If you're concerned about strength, you can take a look at the ply (or layer) which varies from one to six plies.
​Length:​ You can find garden hoses ranging in length from just a few feet to 125 feet. You'll need to make sure the hose you buy is long enough to reach everything you need it for (we recommend taking some measurements outside before your purchase), but try not to buy one that's too long. The longer the hose, the more tubing you'll need to lug around and store when it isn't in use. Water pressure also decreases with length. You can always buy a shorter hose and attach an additional hose as needed. Hoses can also range in diameter from less than 1/2 inch through 1 inch, with 5/8 inch being the most common and able to fit standard connectors.
​Type:​ Aside from traditional garden hoses, you can also buy specialty hoses designed for specific tasks. A sprinkler hose has holes on one side that allows water to gently spray upwards for lawn and garden irrigation. A soaker hose is also used for garden irrigation and can be set on top or buried underneath mulch. It's highly efficient due to the small amount of water that's delivered directly to the roots.
​Special Features:​ Some garden hoses have special features like nozzles or sprayers that can have adjustable sprays to suit your watering needs. Other special features include being kink-resistant, abrasion-resistant, crush-resistant, light-duty or commercial-grade, as well as designed with multiply construction and microbial protection. Some hoses also come with a water-flow control valve that lets you turn off and on the water and change nozzles. Most manufacturers don't recommend drinking from a hose like you probably did as a kid, but if that's important to you, look for a hose that's labeled "drinking water safe."
Scroll on to find the right garden hose for your lawn and garden.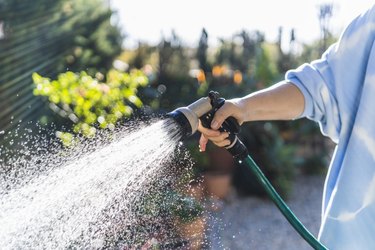 The Best Overall Garden Hose
Our top pick for an everyday hose is the bright green Flexzilla Garden Hose because it's durable, lightweight, affordable, and versatile with a leak-free O-ring connection at the spigot. There are several length options, including 3-, 10-, 25-, 75- and 100-foot lengths. The 50-foot heavy-duty garden hose weighs just under 8 pounds, making it easy for people of all ages and abilities to use. The hose can easily be connected to a hose reel. It can tolerate all weather conditions (the company says it can withstand temperatures all the way down to 40 degrees below zero) and the inner tube made of hybrid polymer is drinking water safe. A flow-stop coupler prevents you from being sprayed when connecting and disconnecting attachments. You have the option to add on a nozzle kit.
​Material:​ Hybrid polymer
​Length:​ 3', 5', 10', 25', 50', 75', 100'
​Weight:​ 3'/11.5 oz., 5'/13.7 oz., 10'/1.7 lbs., 25'/3.8 lbs., 50'/7.8 lbs., 75'/11.3 lbs., 100'/14.4 lbs.
​Diameter:​ 5/8''
​Special Features:​ Nozzle kit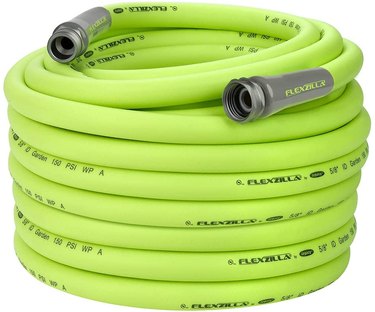 The Best Budget Garden Hose
Expert Gardener Light Duty Garden Hose
The most inexpensive hose we could find also offers a lot of bang for your buck. The Expert Gardener Light Duty Garden Hose is great for watering the lawn, garden or landscaping, as well as for attaching to a sprinkler for the kids or washing the car. It weighs 5 pounds and features 3-ply construction with an inner core, reinforcement layer and an outer jacket. It has an easy-to-connect coupling and can handle water pressure up to 200 PSI. The hose length is 50 feet, which is ideal for most suburban homes. Place it on a hose real for easy access.
​Material:​ Vinyl
​Length:​ 50'
​Weight:​ 5 lbs.
​Diameter:​ 5/8''
​Special Features:​ 3-year warranty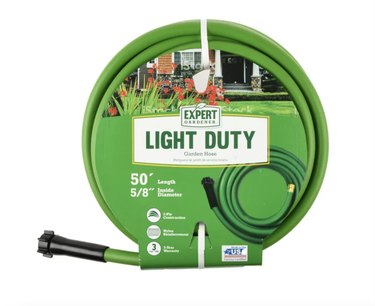 The Best Expandable Garden Hose
Flexi Hose Expandable Garden Hose
If you have limited space in your yard or you just don't want a garden hose to be so cumbersome, an expandable hose is the way to go. This one from Flexi Hose will make your lawn care more enjoyable. It expands up to three times its length when the water is on, and it retracts to its original size when it isn't filled with water. This flexible hose features 3/4-inch solid brass connectors on both ends that attach to any standard faucet, as well as an on/off valve. It can withstand up to 12 bars of water pressure and temperatures up to 113 degrees Fahrenheit. The nozzle has eight spray modes for all your watering needs.
​Material:​ Zinc
​Length:​ 25', 50', 75', 100', 150'
​Weight:​ 25'/2.5 lbs., 50'/2.8 lbs., 75'/3.5 lbs., 100'/4.7 lbs., 150'/6.7 lbs.
​Special Features:​ 4 color options, 8 spray modes, replacement guarantee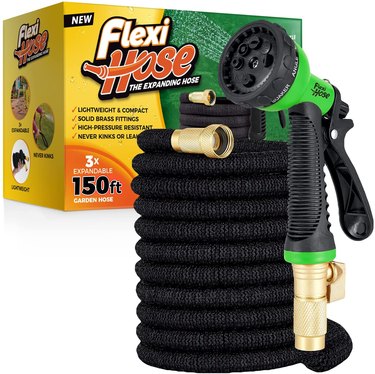 The Best Kink-Resistant Garden Hose
Built with super-strong fiber webbing, the Big Boss X Hose Pro is kink-free, durable, lightweight and strong. When the end of the hose is connected to the spigot and the water is turned on, the water expands to three times its original length. It has a built-in stabilizer collar and crush-resistant brass fittings. Although it's lead-free and BPA-free, the company doesn't recommend drinking from the hose nozzle.
​Material:​ Woven
​Length:​ 50'
​Weight:​ 2.5 lbs.
​Diameter:​ 5/8''
​Special Features:​ 5-year warranty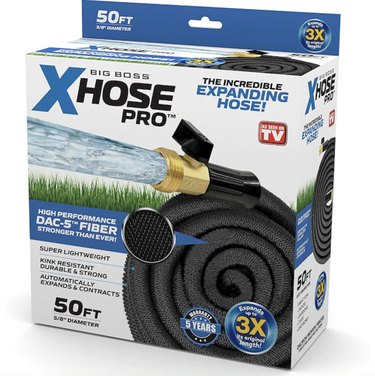 Rocky Mountain Goods Flat Soaker Hose
This heavy-duty soaker hose from Rocky Mountain Goods is made up of tiny pores that slowly and evenly drip water at a low pressure. The water seeps directly into the soil and waters vegetable gardens and plants where they need it most—at the root, conserving 70% water. When the water isn't turned on, the soaker hose lays flat on top or underneath a layer of soil. A perforated PVC liner that's coated with extra-strength fabric protects the hose from splitting.
​Material:​ Vinyl, PVC
​Length:​ 25', 50', 75'
​Weight:​ 25'/11.7 oz., 50'/1.39 oz., 75'/1.95 lb.
​Special Features:​ Lifetime warranty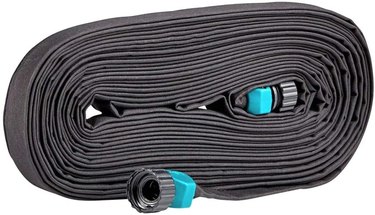 The Best Drinking Water Safe Garden Hose
Not only will this garden hose add some charm and perhaps a splash of color to your outdoor space, it's also completely safe to drink from. It's free of BPA, lead and phthalates, and it's made from toxin-free polyurethane. It's resistant to kinks, cracks and leaks, so plan on this beauty holding up for a long time. The hose is slim and lightweight, making it the perfect size for patio gardens. There are some unique and chic colors to choose from, including lavender, coral, light green, brown, gray, peach and blue-green.
​Material:​ Toxin-free polyurethane, chrome-plated, lead-free brass fittings
​Length:​ 50'
​Weight:​ 3 lbs.
​Diameter:​ 7/16''
​Special Features:​ BPA-free, phthalate-free