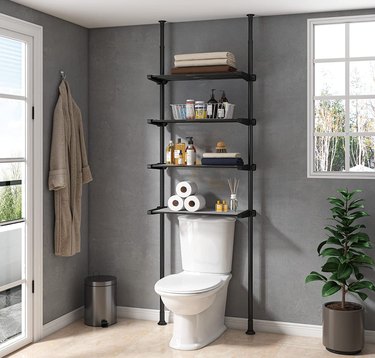 Bathrooms, especially those in older apartments or non-custom-built homes, can often feel light on storage space. Whether your bathroom doesn't include a linen closet, only offers storage under the sink (and sometimes not even that), or is simply tight on space, it can be tricky to house all of your toiletries without encroaching on your counter space. If your bathroom countertop or the edges of your pedestal sink have become too cluttered, there's a solution: over-the-toilet storage. These storage units are designed to either fit around your toilet or sit above your toilet and are a great way to maximize storage space and utilize a spot in your bathroom that's often overlooked. With a variety of styles and sizes, you're bound to find a shelving unit that suits your needs.
What to Consider When Purchasing an Over-the-Toilet Storage Unit
​Freestanding Versus Floating​: Freestanding over-the-toilet storage units usually have four (but sometimes just two) feet that sit on the floor, with the first shelf sitting above the toilet tank. Floating units, such as floating shelves or floating cabinets, attach directly to the wall, so they don't take up any extra square footage. However, they may require more effort when it comes to installation.
​Open Versus Closed:​ Over-the-toilet storage units with open shelves provide easy access to stored items because there are no walls or doors to obstruct them. You might think of these units like bookshelves without any backing or side walls. The tradeoff is that it's easier to accidentally knock items off the shelf since they're less secure. Your toiletries and other items will also be plainly visible—but if you're looking to include some extra bathroom decorations on these shelves, that's not a bad thing. On the other hand, closed storage units include semi-closed or fully-closed compartments like shelves, drawers or cubbies, which more securely store your toiletries and other items.
​Materials​: The most common materials used to make over-the-toilet storage units are metal, wire and wood. All three can last quite a long time, so it's more a matter of taste. Wire shelving units tend to be less expensive, but also a bit flimsier and less stylish—although there are always exceptions.
​Measurements​: It's a good idea to measure your available space (especially if your toilet is wedged between a sink and a bathtub) to make sure you don't purchase something that doesn't fit. It's also advisable to measure the depth of your toilet tank because you don't want a storage unit that protrudes farther out than the tank, which can make sitting uncomfortable. Another tip is to measure the height of the toilet seat lid when it's in the upright position, as you don't want a storage unit with a bottom shelf that hangs too low for you to put the seat lid in the full upright position.
​Assembly/Installation​: Many bathroom storage units are fairly easy to assemble and don't require advanced installation skills, but it does depend on the type of unit you get. Most units will call for some basic tools like screwdrivers to help you assemble the pieces (although some products may include the necessary tools) Freestanding units don't usually require installation, unless they're mounted to the wall—anything wall-mounted typically requires some power tools. Select products offer the option of professional installation for an additional fee.
With these considerations in mind, here are the best over-the-toilet storage options in 2022: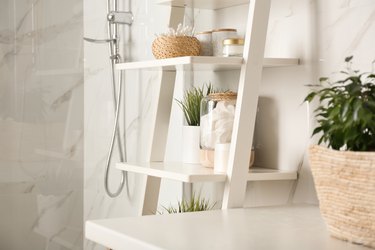 The Best Overall Over-the-Toilet Storage Unit
Sauder Caraway Étagère for Over-the-Toilet Storage
The Sauder Caraway Étagère unit earns high marks for its mixture of quality, variety and value. Think of it like a "Greatest Hits" unit that skillfully combines some of the most popular storage elements, including a shallow open shelf with enough clearance for taller items, two small cubbies, and a cabinet with a frosted glass window. This model is made from recycled manufactured wood and comes in a neutral white that's versatile enough for most bathroom color schemes. The cabinet features an adjustable shelf and the entire unit is finished with slate accents. Assembly is straightforward and the product includes everything you need. The unit measures approximately 23 1/2 inches long, 7 1/2 inches wide and 68 inches tall. Overall, it's a well-designed piece of furniture that will
The Best Budget Freestanding Storage Unit
Honey-Can-Do Over-the-Toilet Storage Shelf
If you don't mind a unit with only open shelves, this freestanding model from Honey-Can-Do is affordable and minimalistic. It features four tiers and doesn't include a backboard or side walls, so everything is easy to reach. However, this does make your items a bit more precarious than items stored in units with walls or higher edges. A simple solution is to put your toiletries in baskets, which will keep them more secure without completely obscuring them. The unit is constructed out of sturdy metal in a chrome finish and is easy to assemble. It measures 24 inches long, 11 inches wide and 68 inches tall.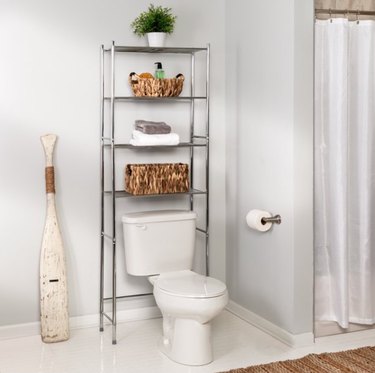 The Best Standing Unit for Small Spaces
ALLZONE Over-the-Toilet Bathroom Organizer
If you prefer a freestanding unit but space is limited, this over-the-toilet organizer from ALLZONE features a narrower profile and sits on only two feet instead of four, thanks to its adjustable tension poles that keep it securely in place. It comes with four open shelves, which are all adjustable to your preferred height, so you can customize the amount of clearance your toiletries and other items have. The unit is constructed from alloy steel and measures approximately 33 inches wide and 10 1/2 inches deep. The tension poles are adjustable between 92 and 116 inches to suit a variety of ceiling heights. This unit offers the feel of floating shelves while still having two feet on the ground.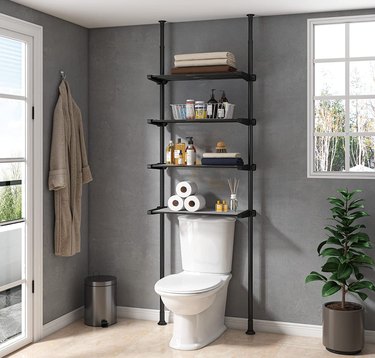 The Best Budget Floating Shelves
SODUKU Floating Shelves, Set of 2
Floating shelves are excellent space-savers, and it just so happens that this pair of floating shelves by SODUKU also look great. They're not specifically designed for over-the-toilet use, so you could even install some in your kitchen or laundry room, as well. Their metal railings keep items more secure—you're much less likely to accidentally knock something into the toilet than you would be if you were using fully open shelves. There's even an optional hand towel bar included.
The shelves are made from pine and available in five tones. Plus, they're heat-resistant and will stand up to the humidity in your bathroom without growing mildew. Assembly and installation are straightforward, but you will need a power drill. Professional installation is available for an added fee. Overall, these shelves are sleek, affordable and versatile.
The Best Industrial-Style Floating Shelves
MIQ Industrial Pipe Floating Shelves
If your home's decor scheme veers more industrial, this floating shelf unit by MIQ is the missing piece in your bathroom. Made from iron pipes and vintage-style reclaimed wood that gives it a unique twist, the unit is available with either two or three shelves and includes a towel rack on the bottom. The two-tier model measures approximately 24 inches long, 10 inches wide and 29 inches tall, while the three-tier model maintains the same length and width, but instead measures approximately 41 3/4 inches tall. It's easy to assemble but does take two people to install.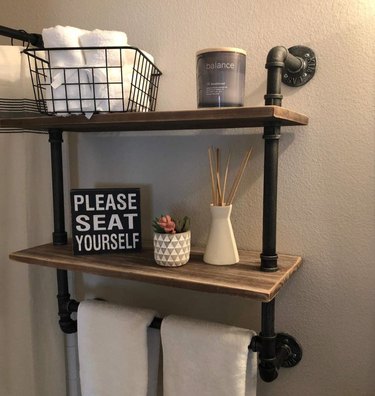 The Best Budget Floating Cabinet
SmileMart Alden Design Mounted 3-Tier Floating Cabinet
When you require more than just open shelves but don't want the footprint of a freestanding unit, a floating cabinet is the solution. By forgoing the bottom half and feet, you not only save some money, but are also granted the freedom to install the cabinet at your preferred height, leaving you with more clearance above the toilet tank, for instance. This affordable floating cabinet from SmileMart is available in white, gray, espresso and navy blue (although it's really more of a teal) finishes that will add some flair to your space. The cabinet features three interior shelves and measures approximately 14 inches long, 8 inches wide and 21 1/2 inches tall.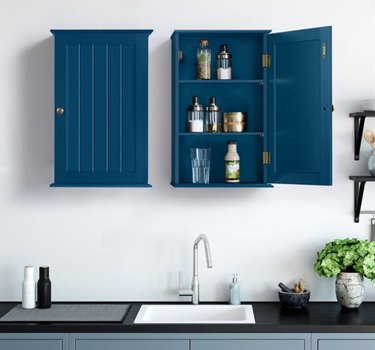 The Best Hybrid Floating Cabinet
Andover Mills Somerset Wall-Mounted Bathroom Cabinet
Made from manufactured wood and featuring clean lines and molding, the floating storage unit features both a bottom shelf with a backboard, as well as an upper cabinet with two doors and two interior shelves for extra storage. This unit's built to last, so you will need a power drill to securely mount it to the wall. It does require assembly, but the instructions are easy to follow. The unit measures approximately 23 inches long, 8 inches wide and 24 1/2 inches tall. Just imagine it in your own bathroom—all your toiletries tucked away inside the cabinet, with beautiful succulents and scented candles on display on the open shelf. Simply elegant.
The Best Splurge-Worthy Floating Cabinet
Gracie Oaks Sowder Wall-Mounted Bathroom Cabinet
If you're willing to stretch your budget in exchange for superior quality ​and​ style, this Gracie Oaks wall-mounted bathroom cabinet is both beautifully designed and functional. Featuring a rustic distressed white cabinet body and cathedral-inspired double doors, it's the perfect complement to a farmhouse aesthetic. Each door features a see-through glass insert and closes magnetically. The interior contains two shelves for storing toiletries and other items. There's no assembly required, but you'll need a drill to help you mount it to the wall. It measures approximately 19 inches long, 8 1/4 inches wide and 23 1/2 inches tall.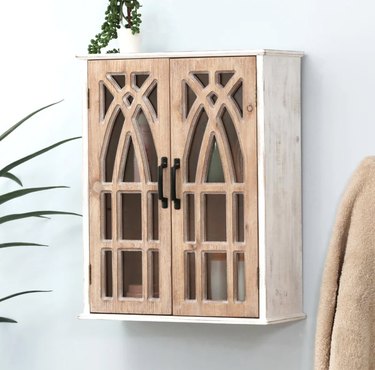 The Best Oval-Shaped Floating Storage Unit
Kalalou Oval Metal Framed Wall Unit
For something a bit different, this oval-shaped floating storage unit combines rustic charm with industrial sensibilities to make for a striking piece of decor in its own right. Of course, it's also functional. It features two shelves made from recycled wood, as well as a basket at the bottom for more securely storing items. There's no assembly required. The unit measures 22 inches long, 10 inches wide and 30 inches tall.