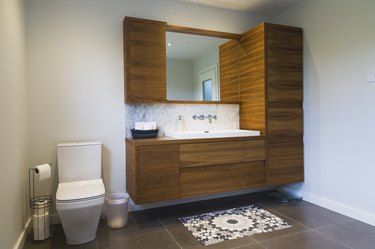 You probably don't think much about toilet paper holders until you don't have one. While it isn't glamorous, the role of a toilet paper holder is of the utmost importance in the bathroom. After all, it literally holds the toilet paper you'll need after doing your business. The best toilet paper holders make it easy to change out the roll, because the last thing you need is to feel frustrated about toilet paper—especially if other people in your home are the ones who forget/purposely don't replace it, leaving you high and dry ... or not dry at all. Most holders are rustproof, waterproof, easy to install and some even offer storage space for backup rolls.
What to Consider When Purchasing a Toilet Paper Holder
​Type:​ There are three common types of toilet paper holders to consider: wall-mounted, tank-mounted and freestanding. The most popular option is a wall-mounted holder for its convenience, price and its small size. While it does need to be installed onto a surface like a wall or the side of a vanity, installation is generally pretty easy. A tank-mounted toilet paper holder also has its benefits. It easily hooks onto the side of a toilet tank without any tools or installation. It can generally hold more than one roll of toilet paper, but it can be a little less convenient to reach while you're sitting on the toilet. A freestanding holder is the easiest to set up, as it simply requires you to place it in a convenient spot on the ground next to the toilet. Some may require quick assembly, while others arrive put together. It's a popular option because there isn't any mounting required and it can hold several toilet paper rolls at a time.
​Size and Capacity:​ Take a look at the space you have next to your toilet before determining which type of toilet paper holder will work best. The size can vary between the different types of holders, with wall- or tank-mounted holders being compact and out of the way without taking up floor space. Most are designed to hold a standard toilet paper roll, which measures around 4 or 4.5 inches in diameter, but anything larger probably wouldn't fit on a standard mounted holder unless otherwise stated. Freestanding holders make the most sense in bathrooms with enough space to set it on the floor without making the space feel cluttered. Some are made to hold one standard roll while others can hold several standard or oversized rolls at once.
​Special Features:​ Most toilet paper holders are pretty straightforward, but some offer unique features. You can find freestanding holders with shelving for baby wipes, your phone, tablet, magazines or books—basically any small items you'd need for entertainment while sitting on the toilet.
Now that you know which type of toilet paper holder will work for your bathroom, check out our list of the top picks below.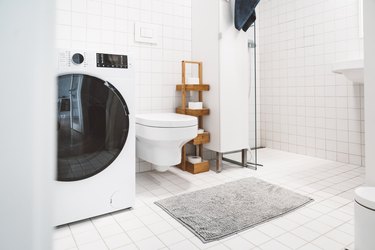 The Best Freestanding Toilet Paper Holder
Kingston Brass Pedestal Toilet Paper Holder
This classic metal freestanding toilet paper holder will add a touch of elegance to your bathroom. The weighted base of this holder keeps it stable—meaning it won't tip over when you pull on the toilet paper roll—but it's light enough to conveniently move around as needed. It can hold one roll of toilet paper and is available in four stylish finishes.
​Dimensions:​ 7.5" x 7.5" x 21.5"
​Finishes:​ Chrome, oil-rubbed bronze, polished brass, satin nickel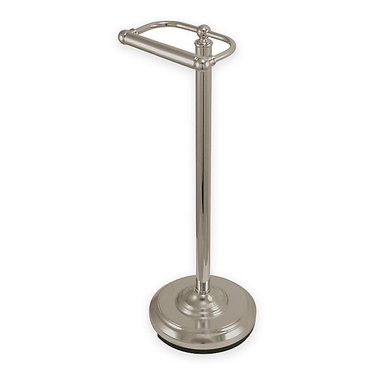 The Best Wall-Mounted Toilet Paper Holder
This stainless steel wall-mounted toilet paper holder gets the job done without getting in the way. It can hold one standard or one extra-large roll of toilet paper. A knob at the end of the bar prevents the roll from falling off. You have two installation options depending on your needs: vertical or horizontal. The high-quality stainless steel is rustproof and ideal for humid environments like a bathroom. While it's available in five different finishes, we're partial to this two-tone option.
​Dimensions:​ 6.42" x 3.15" x 1.97"
​Finishes:​ Brushed brass, brushed gray, matte black, matte black and brushed brass, polished silver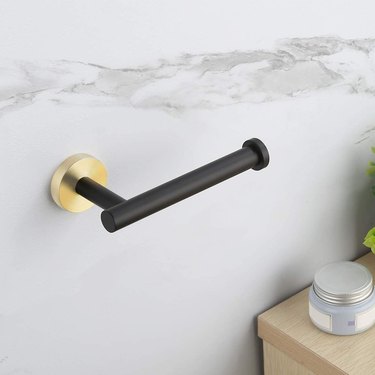 The Best Tank-Mounted Toilet Paper Holder
mDesign Over the Tank Dispenser
If you don't have a lot of space in your bathroom, a tank-mounted holder can help save some room. This mDesign dispenser is made of steel and has a rust-resistant finish. It can hold up to two standard or jumbo-sized rolls. This model conveniently hooks onto the toilet's water tank, you'll just need to be able to reach around to grab the toilet paper. It comes in eight color options and requires no hardware or assembly.
​Dimensions:​ 2.25" x 5" x 11"
​Finishes:​ Bronze, graphite, matte black, matte white, pearl white, rose gold, satin, soft brass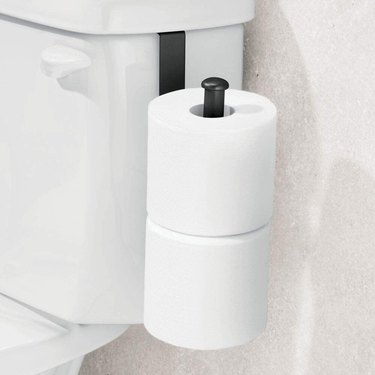 The Best Toilet Paper Holder With Storage
SimpleHouseware Toilet Paper Roll Holder
If storage is what you're after, this freestanding toilet paper holder can hold up to three rolls. So, when your partner or kids forget to refill it, there are two more chances to have enough toilet paper on hand. This toilet paper holder comes in bronze or chrome. There's also the option to buy a version that has a phone or small item holder on top for added convenience.
​Dimensions:​ 7.25" x 7.25" x 23.5"
​Finishes:​ Chrome, bronze

The Best Toilet Paper Holder With a Shelf
Better Homes & Gardens Toilet Paper Holder with Shelf
There are several great things about this freestanding toilet paper holder. To start, it can hold one standard or extra-large roll with three more in the storage compartment. It also has a top shelf that can hold baby wipes, a phone, a tablet or any other small items. Sturdy steel construction ensures durability for everyday use, and a satin nickel or bronze finish fits with any decor. The holder is lightweight and can be easily moved around if needed.
​Dimensions:​ 6.92" x 6.92" x 26.5"
​Finishes:​ Satin nickel, bronze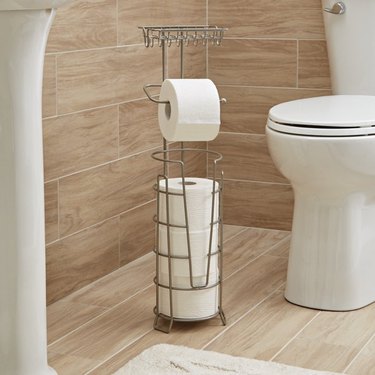 The Best Contemporary-Style Toilet Paper Holder
Moen Iso Collection Double Post Modern Pivoting
There's a lot to love about this modern and classy wall-mounted toilet paper holder. Made of brass, it securely mounts to the wall and is easy to install with the indcluded hardware. A pivoting rod allows you to easily change the toilet paper roll. The holder coordinates with the Iso collection, also available on Amazon, which includes a towel ring and towel bar.
​Dimensions:​ 4.84" x 3.03" x 11.18"
​Finishes:​ Brushed nickel, chrome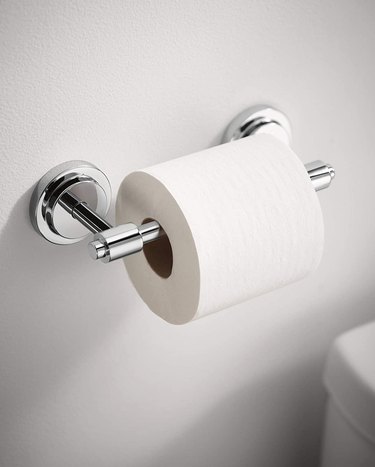 The Best Modern-Style Toilet Paper Holder
Franklin Brass Max50 Toilet Paper Holder
This wall-mounted, Euro-style toilet paper holder will look great in any modern bathroom, and roll replacement is super easy. There are four finish options: flat black, polished chrome, satin nickel and Venetian bronze, pictured here. The holder has a durable, long-lasting zinc die-cast construction and finish that helps prevent tarnish, discoloration and corrosion.
​Dimensions:​ 4.25" x 5.68" x 2.12"
​Finishes:​ Flat black, polished chrome, satin nickel, Venetian bronze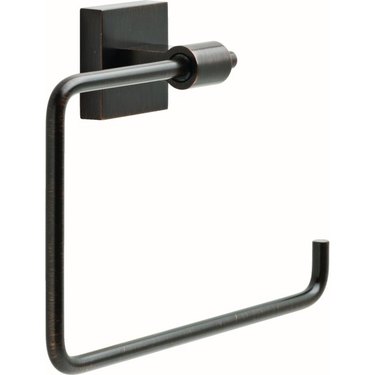 The Best Illuminated Toilet Paper Holder
Brilliant Ideas LED Toilet Paper Holder
This plastic LED toilet paper holder puts the fun in functional. Not only does it effectively hold your toilet paper roll, but it displays a light show every time you use the toilet. The LED lights also help illuminate your space for nighttime bathroom visits. It requires three AA batteries that aren't included and it sticks to the wall via adhesive tape.
Dimensions: 5.25" x 5.25" x 5.25"
Finish: Multicolor