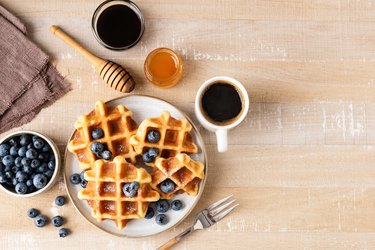 There's arguably no better weekend breakfast option than delicious, fluffy waffles. The ideal vessel for pads of butter, gooey syrup, dollops of whipped cream and fresh berries, waffles are as versatile as they are tasty. Those who prefer savory to sweet have countless recipes to choose from, too, including fried chicken and waffles and chili-topped cornbread waffles.
Regardless of which waffle-loving camp you fall into—light and airy or thin and crispy—there's a waffle maker that can help you achieve perfectly-cooked results nearly every time. Before we dive into the best waffle makers on the market, there are a few things you need to know about these small but hardworking appliances.
What to Consider When Purchasing a Waffle Maker
​Waffle Type:​ There are many different types of waffles, from the Dutch stroopwafel to the Italian pizzelle and the Hong Kong-style egg waffle. But the two primary types of waffles that you can create with a waffle maker are classic waffles (sometimes called American waffles) and Belgian waffles, which were brought to the U.S. by Maurice Vermersch in the 1960s. Classic waffles use baking powder as a rising agent, while Belgian waffles are traditionally made with yeast. Ultimately, the type of waffle maker you choose depends on your personal preference.
​Flip Versus Standard:​ If you've ever stayed at a hotel with free continental breakfast, you've probably encountered a rotating or 'flip' waffle maker. Some people will argue that a flip model is superior because it better distributes the batter and cooks faster and more evenly—resulting in crispy on the outside, fluffy on the inside waffles. That being said, they can be quite messy and the rotating function could eventually break down. A standard waffle maker can yield equally yummy results, although some experts say they're better for classic waffles than Belgian waffles. If you prefer a waffle maker that requires little effort, doesn't make much of a mess, and is more commercially available (and oftentimes less expensive), a standard waffle maker is the way to go.
​Cleaning Method:​ Some waffle makers have removable, nonstick plates that can be thrown in the dishwasher for easy cleaning. Other models feature removable drip trays or moats to catch any batter that spills over the edge. Easy-to-clean waffle makers tend to be more expensive, however, so keep that in mind when deciding on a budget. If you find that your waffle maker is prone to spills, you could also put a sheet of newspaper or wax paper underneath it to catch the drips.
​Budget:​ Waffle makers can range from $20 to over $200 if you're seeking a professional-quality appliance. Expect to pay more for coveted features like a steam-release system, multiple browning settings or double-sided waffle grids. If you only make waffles on special occasions, a $40 model might suit you just fine, but if you're an every-weekend "waffleier," investing in a hardwearing model is certainly worth it.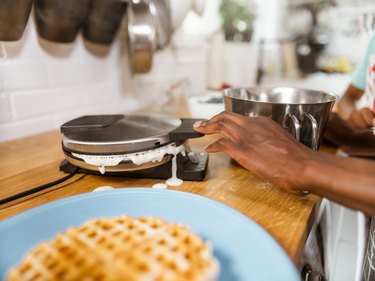 The Best All-Around Waffle Maker
All-Clad Belgian Stainless Steel Waffle Maker
Our pick for the best all-around waffle maker is also the most expensive, but here's why it's worth the splurge: the All-Clad Belgian waffle maker features seven browning settings, allowing you to choose your preferred level of doneness. Unlike other waffle makers that trap the steam, often resulting in soggy waffles, this stainless steel model touts a steam-release system for a "delicately crispy" exterior. An LED light indicates when the waffle maker has heated to the desired temperature and a "beep" sound will alert you when your waffle is done cooking. The cooking surface is nonstick and there's a removable drip tray for easy cleaning. It whips up waffles that are 4.5 inches wide with 1-inch-deep crevices for loading on toppings.
Dimensions: 12" x 11.5" x 6"
Number of Settings: 7
Waffle Type: Belgian
Finish: Nonstick
Steam-release system
Removable drip tray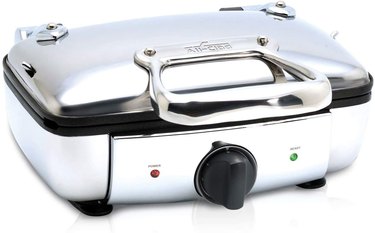 The Best Classic Waffle Maker
Cuisinart Round Classic Brushed Stainless Waffle Maker
Classic waffles are often overlooked in favor of Belgian waffles, but sometimes a light, crispy version just hits the spot. This affordable waffle maker yields round, classic-style waffles that won't leave you feeling overly full. It has five browning settings and red and green lights that tell you when it's "ready to bake" or "ready to eat." The waffle maker's exterior is stainless steel and the cooking plates are coated in a nonstick finish. Each waffle has four easy-to-separate quarters, so it's great for sharing. When the waffle maker is not in use, it can be stored vertically thanks to a latching-lid feature and special grooves that keep the cord wrapped securely around the base. This Cuisinart model even comes with a recipe book and a limited, three-year warranty.
Dimensions: 9.69" x 7.88" x 3.31"
Number of Settings: 5
Waffle Type: Classic
Finish: Nonstick
Cord-wrap feature
Includes recipe book
The Best Belgian Waffle Maker
Presto Ceramic FlipSide Belgian Waffle Maker
Although our pick for the "Best All-Around Waffle Maker" also creates Belgian waffles, we realize that not everyone wants to spend close to $200 on a small appliance. The Presto Flipside Belgian Waffle Maker rotates 180 degrees to ensure the batter spreads and cooks evenly. Its extra-thick waffles are crispy on both sides and measure 7 inches in diameter. The waffle maker has a ceramic, nonstick grid, so cooking oil is not needed. While there's only one temperature setting, you can use the countdown timer with a digital display to monitor the cooking time. Another benefit of the Presto Belgian waffle maker is that it locks vertically and stands firmly on its base, meaning it won't take up valuable cabinet space.
Dimensions: 11.25" x 11.75" x 4"
Number of Settings: 1
Waffle Type: Belgian
Finish: Ceramic
Stores vertically
Flip design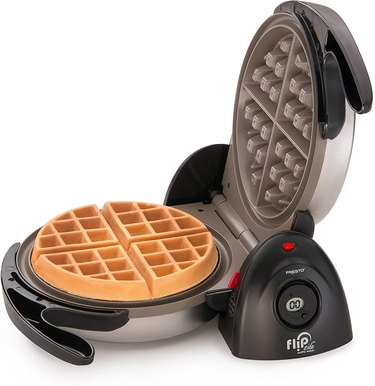 The Best Flip Waffle Maker
Cuisinart Waring Pro WMK200 Belgian Waffle Maker
A rotating waffle maker guarantees a soft interior and a crispy exterior by evenly distributing the batter. This stainless steel Cuisinart model comes with a removable drip tray that's dishwasher-safe, which makes clean-up a breeze. There are six browning settings and the nonstick plates create 1-inch-deep pockets in the Belgian waffles. Blue LED lights alert you when the appliance has reached its desired temperature and when your waffle is done cooking. The rotary feature is easy to master and results in round waffles that are crisp on both sides.
Dimensions: 9.75" x 15.63" x 9.63"
Number of Settings: 6
Waffle Type: Belgian
Finish: Nonstick
Flip design
Removable drip tray
The Best Mini Waffle Maker
If you've got young kids or like to make snack-sized waffles, this mini waffle maker will be an instant hit. It heats up in just a few minutes and creates 4-inch waffles using about 2 tablespoons of your favorite batter. The small but mighty machine has dual nonstick cooking surfaces that are PFOA-free and non-slip feet to keep it firmly in place. An indicator light comes on when the mini waffle maker is ready to use and again when your waffle is ready to serve. Dash makes mini waffle makers in dozens of patterns and shapes, including skulls, pineapples, snowflakes and hearts, but we like this model with a confetti and waffle motif on the exterior. Beyond waffles, you can use the Dash Mini Waffle Maker for hashbrowns, cookies and 'chaffles,' which are made out of cheese and egg.
Dimensions: 6.4" x 5" x 2.8"
Number of Settings: 1
Waffle Type: Classic
Finish: Nonstick
Heats up quickly
Includes recipe book
The Best Novelty Waffle Maker
The Child 4" Mini Waffle Maker
Good news for anyone who "would like to see the baby"—you can catch a glimpse of Baby Yoda every morning in your fluffy, miniature waffles. This Mandalorian-themed waffle maker creates 4-inch waffles that are textured with pockets on one side and an imprint of "The Child" on the other. The cooking plates are nonstick and an indicator light allows you to monitor the status of your adorable waffle. It heats up quickly thanks to its 600 watts of power and makes a great gift for the "Star Wars" fan in your life. If you prefer normal-sized waffles, Amazon also sells a similar version that measures 7.75 inches long, 9.5 inches wide and 4.75 inches high.
Dimensions: 6.69" x 5.16" x 3.58"
Number of Settings: 1
Waffle Type: Classic
Finish: Nonstick
Baby Yoda motif
Cord wrap feature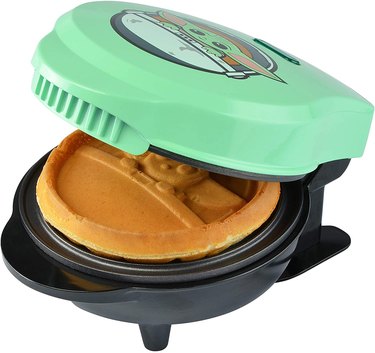 The Best Mess-Free Waffle Maker
Breville BWM520XL No-Mess Waffle Maker
Overflowing batter can take the fun out of your weekend breakfast routine, but this Breville classic-style waffle maker makes clean-up a snap. A wide moat wraps around the PFOA-free, nonstick cooking surface to catch and cook any spillage. While the plates aren't removable, they're easy to wipe off with a damp cloth while the appliance is still warm. The waffle maker has seven browning settings and incorporates "thermally engineered heating elements" to deliver evenly-cooked, crispy waffles. There are power and ready indicator lights, as well as a lid-locking mechanism to prevent any accidents. The appliance makes a beeping noise when it's done cooking, but it's not loud enough to wake up your roommate on a Saturday morning. Although it's an expensive model, the Breville No-Mess Waffle Maker is well worth it in terms of quality and convenience.
Dimensions: 11" x 9" x 5.7"
Number of Settings: 7
Waffle Type: Classic
Finish: Nonstick
No-mess moat
Secure lock lid