Though pottery is one of the world's oldest art forms, legend has it that it was discovered by accident. Because water was once gathered from rivers in woven baskets, clay from the rivers would accumulate in the baskets. When baked in the sun, the clay would harden. People then began forming baskets out of clay to use as containers. From its humble utilitarian beginnings, pottery became a symbol of a civilization's culture, as urns and vases were painted with motifs and stories. Since the beginning, forming the pottery by hand has always been an essential technique, but it is believed that the first potter's wheel, which revolutionized pottery making, was developed around 3,000 B.C.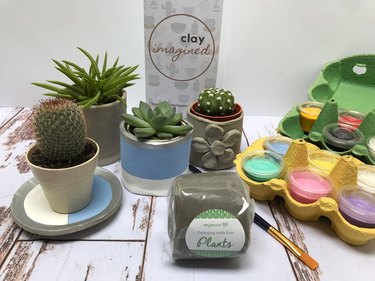 Fast forward several thousands of years, and working with clay has to be one of the most tactile, satisfying ways to express your creativity. The feeling of running your fingers through clay and forming it into a shape just can't be beat. However, taking on a clay project can seem overwhelming at first. What kind of clay do you buy? What supplies are needed?
Fortunately, there are many DIY kits with all the materials you need included along with instructions. Some of the kits feature air-dry clay, which is perfect for beginners because it does not need to be fired in a kiln, while others feature red or white clay that does need to be kiln-fired. In this case, the pottery piece can be shipped back to the merchant for firing or fired at a local pottery shop. With these clay craft kits, you'll really be able to dig into your creative side and connect to an ancient, revered history.
With this kit, you'll learn how to make a delightful plant pot that's in the shape of a head so that the plant will look like hair. The basic technique, which is shown in detail on an accompanying YouTube video, encompasses molding two clay bowls and joining them together. The top section is the head, while the bottom is the pedestal and body. The kit includes an air-dry clay that can also be kiln-fired if desired. This merchant also has many other pottery kit designs available.
The kit includes:

• Air-dry clay
• 2 wooden tools to carve details
• 1 loop tool
• 1 tub of slip (which is clay glue)
• 1 tub of sealer
• 1 paintbrush
Tip
To personalize the pottery head, save extra clay to make distinguishing features, like eyeglasses or mustaches.
2. Date Night Box and Conversation Cards
If you've seen the movie "Ghost" – in particular, Demi Moore and Patrick Swayze's pottery scene – you'll know that sculpting with clay can be a great activity for couples. This clay pottery kit is all about giving you a romantic evening filled with creativity and conversation. Making this kit extra special is the conversation card deck, which allows you to have deep and meaningful conversations while you sculpt. There's even candy to sweeten the occasion.
The kit includes:

• Air-dry clay
• 8 sculpting tools
• A deck of conversation cards
• Candy kittens
• Sealant
• Instruction leaflet
• 2 brushes
• 8 acrylic paint tubes (optional)
• Paint palette (optional)
Tip
This kit is great for first dates, as you can break the ice by sculpting with clay while having topics of conversation at hand.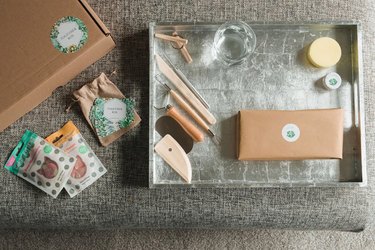 3. Eco-friendly Clay Kit With Succulent or Cactus
This environmentally friendly pottery kit lets you make your own clay pot and even provides the plant to go in it. All the contents, from the clay and supplies to the packaging, have been thoroughly researched to be better for the planet. The clay has no nylon fibers. All packaging is biodegradable and compostable, and the water-based tempera paint is a less plastic alternative to acrylic paint.
The kit includes:

• Air-dry clay
• 1 succulent or cactus
• Detailed step-by-step instructions with simple diagrams
• 3 different projects from which to choose
• Tempera paints (optional)
Tip
Be sure to take lots of photos of your pottery sculpting, as your social media followers will want to see the process as much as the finished product.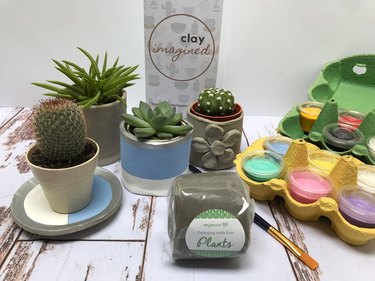 We could all use a little hedgehog in life, and now you can create one out of clay for your home or garden. Sculpting one is easy because of the hedgehog's simple shape, and the included tools will help you achieve the look of the hedgehog's quills. You'll have a choice of air-dry clay or stoneware clay. If you select the stoneware clay, you'll be able to ship the hedgehog back to the merchant for kiln firing.
The kit includes:

• Clay
• Tools
• Glaze
• Brushes
• Return packaging
• Firing voucher
Tip
If you're a beginner, choose the air-dry clay. It will give you instant gratification, as you won't have to wait for the sculpture while it's shipped back to the merchant, kiln-fired and shipped back to you.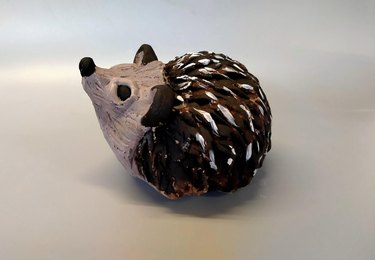 For a clay project that looks beautifully out of the ordinary, try this kit featuring speckled clay. With the clay and tools that come in the box, you'll be able to fashion both an espresso and latte mug. Just use the handy templates to perfectly shape your mugs. The dotted accents in the clay give them an earthy yet luxe feel, and you'll have results that look like artisan pottery.
The kit includes:

• Speckled clay
• English and German instructions
• 2 wood guides
• 1 modeling tool
• 1 small rolling pin
• 1 silicone rib
• 1 sponge
Tip
These mugs will need to be kiln-fired to hold beverages. Because the merchant is in Germany, you'll probably find it more cost effective to have your pieces fired at a local pottery studio if you live in the United States.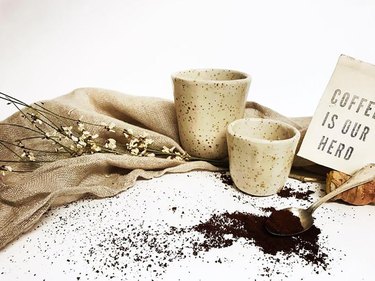 Many people may not have picked up any clay since childhood. Now is the time to rediscover the joy of creating pottery, and these kits definitely get you in the crafty DIY groove.