Things You'll Need
Microwave-safe containers

Water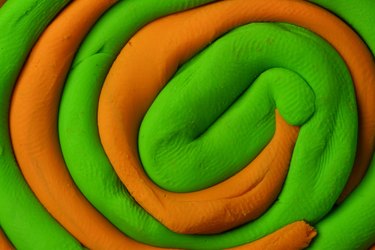 Modeling clays, including polymer clay, offer a wide variety of looks and colors, such as neon, glitter and stone. Popular brands include Fimo and Sculpey. You can bake polymer clay in about 15 to 30 minutes on a low oven setting, preferably in a convection oven. Traditional thought has advised against microwaving the clay. However, by taking care to keep the clay moist, you can safely microwave modeling clay.
Step 1
Place your clay piece in the microwave-safe bowl. A ceramic bowl does not work, as it may react negatively with the polymer clay. .
Step 2
Cover the piece with water. Ensure the piece remains covered throughout the baking process.
Step 3
For smaller pieces, such as beads, microwave about two minutes. For larger pieces, set the timer at 10 minutes or more. A good guide is to microwave the piece for 10 minutes for every 100 grams (about 3.5 ounces) of clay.
Step 4
Continue to boil the water until you believe the clay is baked. If the object dries, it will burn and smoke quickly. Allow the clay to cool.
Tip
Use a container proportionate in size to your piece for best results. As of 2011, at least two brands of modeling clay are specifically designed for hardening in a microwave, both in about 10 minutes time. Both Fimo Air Microwave modeling clay and Staedtler Fimo Efaplast clay, available in white or terra cotta, can be used in a variety of applications such as molds and texture sheets. Clays that harden in the microwave contain ingredients that allow even heating inside and out. You can air dry these instead if you like.
Warning
Use a water-based, as opposed to an oil-based, modeling clay in the microwave. Children's modeling clay will not harden, as it contains wax in addition to oil.