Why tackle composting on your own when you can get the help of worms to do the work of decomposing the food products? With vermicomposting, it couldn't be easier: You save your organic kitchen scraps and feed them to worms – ideally, red wiggler worms living in closed bins. They eat it, and their castings are a high-quality compost. The water draining from the procedure is termed "worm tea" and can be used to fertilize indoor plants.
There are more than a few vermicomposting bins available in commerce. It helps to have a short list to start your purchasing process. We've identified five worm bins that really work well.
1. 5-Tray VermiHut Worm Bin
​Let's just say it right up front: Vermicomposting bins bear a higher initial cost than many regular compost bins, but remember – many of these worm bins are built for the kitchen, which means no odor and no muss. One we find particularly great for indoor locations is the 5-Tray VermiHut Worm Bin. It is compact, measuring about 17 by 17 by 15 inches, a decent size for a kitchen shelf. It costs about $100.
Its small footprint makes it ideal for an indoor location.
It is a pleasant shade of dark green that may fit right in with your decor.

This kit has not one but five separate trays. That means the worms can start at the bottom and then move up as they consume the scraps.

The bin is built with good airflow, making it highly efficient.

Some customers report that the trays they received were warped, allowing worms to escape.
The price tag may chase away some buyers.

This bin is extremely easy to set up and takes up a small amount of space. You can be vermicomposting the same day the bin arrives.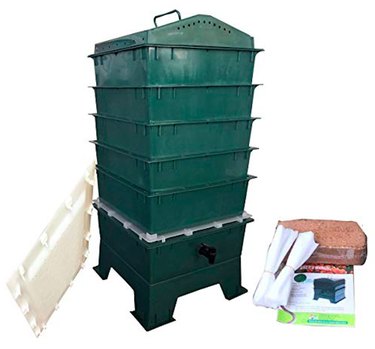 One issue with vermicomposting in general is that indoor bins offer limited production. The Worm Factory 360 solves that problem. While it arrives with four trays in place, it can be expanded to six trays, giving it the largest volume of any indoor home composter. Like most worm composters, it will cost you more than $100. This model is priced around $132. Don't forget that for that price you get everything you need to get going with worm composting, including an instruction booklet and DVD.
More is better when it comes to top-quality worm casting compost, and the Worm Factory 360 gives you maximum capacity.

There are no bad smells thanks to the solid construction.
The set comes with six trays, each one with a grid bottom that allows worms to migrate up to a new tray as you add more kitchen detritus. That allows you to harvest the bottom tray, creating a continuous loop system of operations.
You can process 1/4 pound of detritus per day with 1/2 pound of worms.
Some customers report that

their models had a large ventilation gap between the base and the bottom tray that lets worms escape and insects enter.


The price is over $100.

If you want to process the maximum amount of kitchen scraps with a vermicomposting bin, this is the one for you.

When you want to get started composting with worms but you don't want to invest $100 or more, you have to get back to basics. That's why you should check out the Basic Worm Factory. Like other vermicomposting bins, it is compact and odorless, making it fine for use indoors. Expect the essentials but fewer bells and whistles.
This system holds up to 12 pounds of compost in three stacking trays.

You can buy additional trays from the same company if you want to increase production. It's not recommended to use more than five trays.
A single tray costs under $25. You can opt for more trays for more money.

The price of $149.99 for the whole system includes an instruction guide and everything you need to get started other than the worms. That includes shredded paper, pumice, rock dust, coir and a rake and scraper.

This product is made in the USA from 100 percent recycled plastic.

Lifting the trays and accessing the compost is easy to the point of being effortless.

The most affordable version only has one tray, which limits its efficiency.
You won't find a cheaper way to get into vermicomposting.
This is a cool system for worm composting. It is well-built, stands on four solid legs and is very steady. It is designed with a removable hinge top and offers a very large surface area for worm feeding. It is tall enough to allow a 2-gallon bucket underneath for draining.
It has an exceptionally well-thought-out design and is raised on sturdy legs with a removable top on hinges to allow for easy access.
You don't have to bend over to feed the worms or access their castings thanks to its height.

The bin is slightly sloped
–
just enough to access compost tea with a turn of the handle.
It is super easy to assemble and is fun to use.

You have to take care when putting the compost tea spout in place. If you don't get it just right, it can leak.
It's a little pricey at over $160.
The Worm Cafe wins the prize for the best-designed vermicomposting bin. Someone really took the time to think this one through.
Worm composting is fun and easy if you pick the right composting bin. First, figure out your priorities and then pick the bin that gives you what you need the most.