If the first sign of warmer weather makes you immediately want to spend as much time outdoors as possible, you're going to want to make sure your backyard is in tip-top shape to host all those sunny-day activities.
And in order to achieve that, you have to start by getting rid of the weeds. Try out any of the tips below, and find more lawn-care and landscaping inspiration on the Weeding Wisely site (where you can also find out exactly which of The Roundup® Brand Products are right for your project) to get your yard cleaned up and beautified for spring.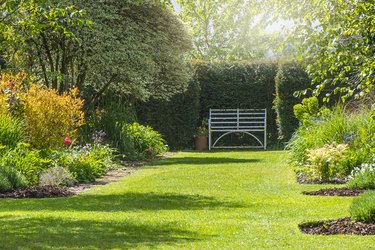 First thing's first: You've got to take care of your lawn. No matter how much grass you have in your backyard, you'll want it to look as lush, healthy, and weed-free as possible—which is where Roundup® For Lawns3 Ready-to-Spray comes into play. Spraying the fast-acting formula on your yard will kill over 250 types of weeds* without harming the grass, so it'll be primed for backyard games and activities.
​*See inside booklet for weed list​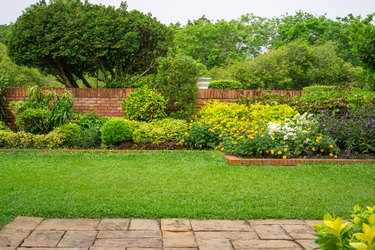 Disguise bare patches with ground cover
If your lawn is patchy but you don't have the patience to wait for the grass to grow back in naturally, ground cover will germinate quickly to cover up any unsightly areas of your yard. Of course, if you're really after instant gratification, sod will have the same effect, for a price. About 10 plants (wild thyme, bishop's weed, and lamium are all quick-growing options) will cover a 10 square foot area.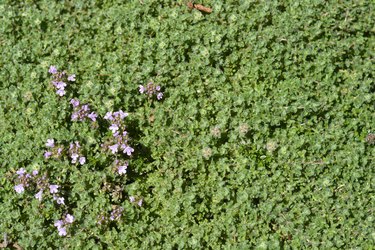 Creating defined edges to gardens and the areas beneath trees and shrubs make them look like purposeful pieces of landscaping. You can turn edging into an easy DIY project by lining gardens with salvaged brick or collected rocks. Bonus points if you paint the rocks (which can be a fun family activity for a nice spring day) to turn your garden into a work of art.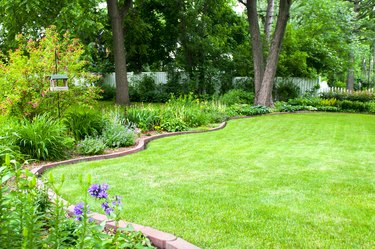 If you have a garden in your backyard, be sure to select plants that grow in a variety of heights to create the illusion of a fuller plot. Mix in tall grasses with low-growing flowers, and add in planters throughout the space to really switch up the visual effect.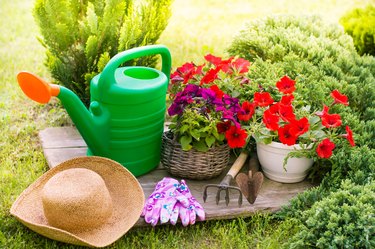 Mulch is one of the easiest ways to take your landscaping from average to professional-looking without much effort. And not only does it make your gardens look manicured, it also helps to stifle weeds—especially when you put down Roundup® Landscape Weed Preventer before spreading the mulch to prevent listed weeds and grasses for up to six months.
Create a quaint pathway through your lawn, garden, or row of shrubs with a simple stone layout. You can either collect stones from a river or creek if you have one nearby, purchase them from a nursery or garden center, or DIY your own with quick-setting cement and smaller stones, marbles, or seashells.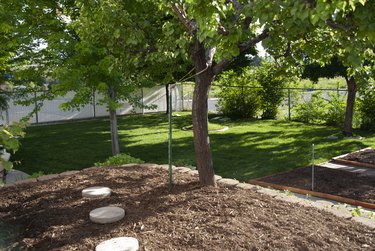 Stringing lights across the expanse of your backyard (if you have strategically placed trees) will create a garden party effect, and plunking solar-powered lanterns into your gardens or next to walkways will add ambience from all angles.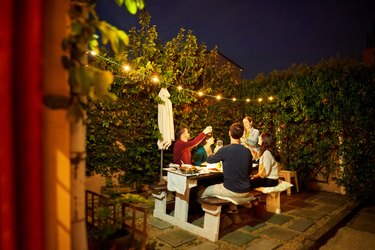 Have a spot in your yard that's notoriously hard to mow? Fill it with river stones to give it a low-maintenance facelift (and don't forget to put down Roundup® Landscape Weed Preventer beforehand to keep listed weeds from growing up through the cracks).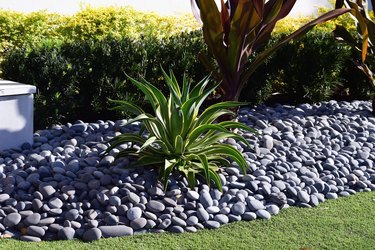 Put an arched trellis near a gate or other natural entry point to your backyard to create a grand entrance, or lean lattice board up against the house to serve as an extension of a garden. Plant climbing vines beneath it, and you'll have a beautiful living wall in no time.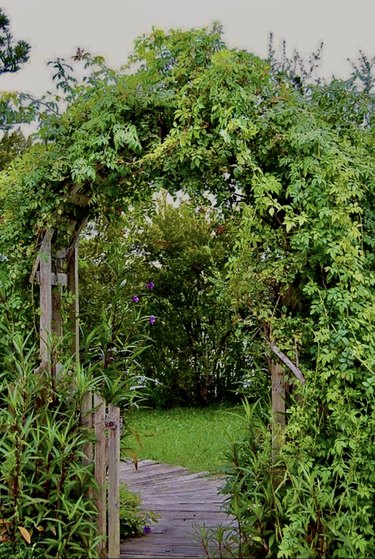 Beautify your property lines
Use landscaping to define the perimeter of your property by planting fast-growing, hedge-like trees like leyland cypress. They can also provide added privacy if you don't have a fence or cover up an unsightly fence without having to fully replace it. And of course, don't forget to use Roundup® Landscape Weed Preventer around your established trees (trees that have been planted for more than two weeks) to prevent listed weeds from growing in your pretty new perimeter. Follow that up with mulch, and voila! You've got a beautiful backyard.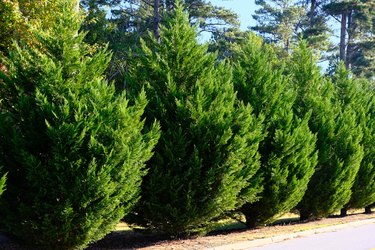 ​​Want more info on which Roundup​​®​​ Brand Products are best for your lawn or garden project? ​​​Click here ​​for product suggestions and tips on how to use them.​​​​​​​
​ALWAYS READ AND FOLLOW PESTICIDE LABEL DIRECTIONS.​ ​Not all products are registered in all states and may be subject to use restrictions. Roundup and Design​​​®​​​​ and Roundup​​​​​​®​​ ​​ are registered trademarks of Bayer Group. 2021 Bayer Group. All rights reserved.​​