1 of 11
10 Super Simple Sponge Hacks
Sponges are standard issue cleaning equipment in homes across the U.S. Where would we be without these trusty rectangles to absorb, wipe and scrub the everyday spills that scourge the surfaces throughout our spaces? Yet, if you're relegating the splendid sponge to mere janitorial duty, then you're missing out on a very versatile and useful tool. Try out these 11 simple hacks that will change the way you look at sponges forever.
Image Credit:

Ryan Tronier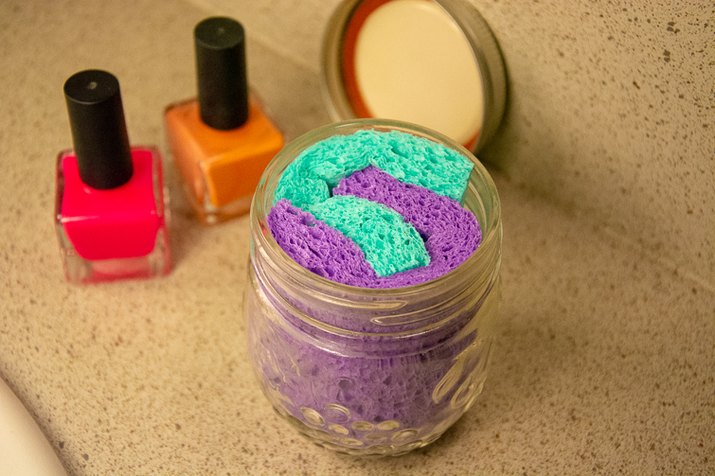 2 of 11
Removing nail polish isn't a particularly difficult job, but it can be time consuming when you're already in a rush to strut your stuff. This reusable nail polish remover is the perfect timesaver to take you from grime to glamor in minutes. Instructions: Cut a sponge in half (lengthwise) before tightly wrapping the two halves around each other and securing them into a small, 4-ounce mason jar. The sponge should be flush with the jar's brim. Saturate the sponge with nail polish remover and allow several minutes for the fluid to soak. Simply place one fingernail at a time between the soaked sponges and twist. Secure the lid to the sponge when done, and shake before reuse.
Image Credit:

Ryan Tronier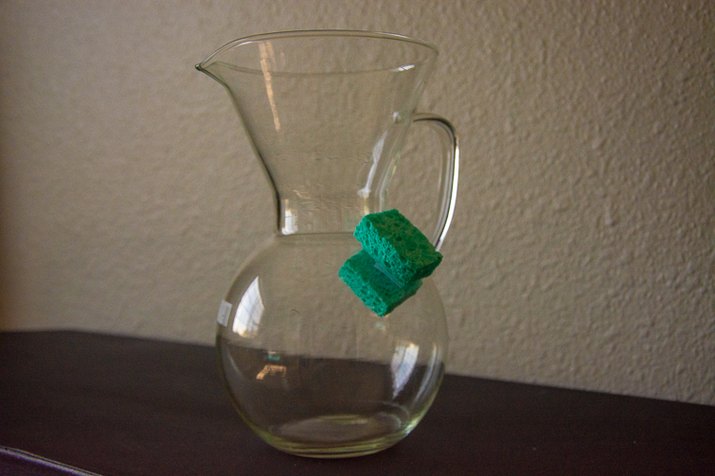 3 of 11
It's Murphy's Law that our bottlebrush doesn't quite reach all of the muck when we need to clean an oddly-shaped vase or a piece of glassware with bizarre angles. Keep one of these homemade magnetic sponges beneath your kitchen sink, and you'll have your glass gleaming in no time. Instructions: Quarter a sponge before super-glueing the positive pole of a craft-store magnet into one section of the sponge and the negative pole of the magnet into another quartered section. Place one on the inside of a vase and one on the outside so the positive and negative poles engage magnetically. Delicately slide the exterior sponge so that the interior sponge removes hard-to-reach debris.
Image Credit:

Ryan Tronier
4 of 11
Whether you need to keep a sack lunch cool, or you've pulled a muscle squeezing those last few reps from your circuit training, an ice pack can be an absolute lifesaver in a pinch. Instead of buying a single-use ice pack from the store, simply upcycle those stray sponges in the back of your junk drawer to save money and an unscheduled trip to the market. Instructions: Saturate a sponge with water and allow the liquid to soak. Seal the soaked sponge into a Ziplock bag before placing in the freezer for 1-3 hours. Depending on your preference, keep the sponge ice pack in the bag or remove it.
Image Credit:

Ryan Tronier
5 of 11
Cleaning window blinds and ceiling fans may be one of the most annoying chores anyone has to tackle. Not only are these cleaning tasks mind-numbingly tedious, they seriously strain your arms and wrists. Save time and sanity while dusting with this double-sided cleaner hack. Instructions: On the ends of two sponges, cut two incisions deep and wide enough to accommodate the prong ends of kitchen tongs. Slide the tong ends into the sponges and secure with super glue or a hot-glue gun.
Image Credit:

Ryan Tronier
6 of 11
Dryer sheets are a controversial topic in cleaning circles. Not only have they been accused of containing harmful carcinogenic chemicals, environmentalists ask if softer clothing is really worth creating more rubbish for landfills. Skip the squabbling by recycling a few kitchen sponges into reusable dryer sheets! Instructions: Halve several kitchen sponges and submerge them in a container filled with equal parts liquid fabric softener and water. Thoroughly squeeze all liquid from the fabric-softening sponge before placing into your dryer. Store remaining sponges in the softener-filled container.
Image Credit:

Ryan Tronier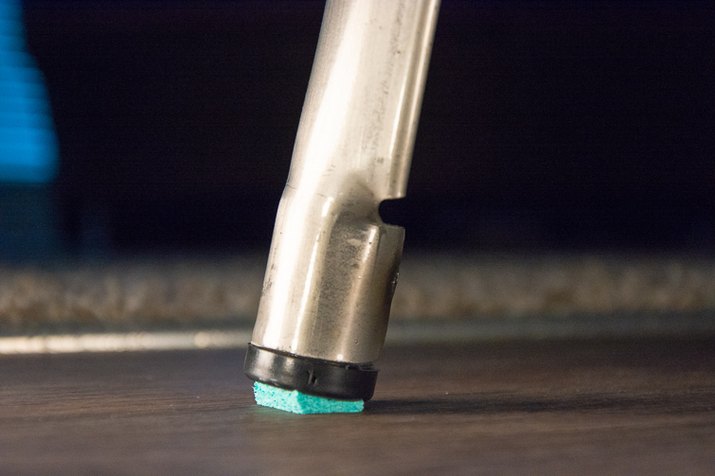 7 of 11
Wobbly chairs and tables are quickly fixed by folding up some junk mail and sliding it beneath the tipsy leg. But these on-the-fly "repairs" rarely last more than an hour or so. Do yourself a durable favor and create a furniture shim with a leftover sponge. Instructions: Using a sharpie, trace a section of sponge the size of the chair or table foot before cutting out the pad and securing it to the bottom with a hot-glue gun or adhesive of your choosing. Apply additional sponge shims if the first has not balanced your furniture's legs.
Image Credit:

Ryan Tronier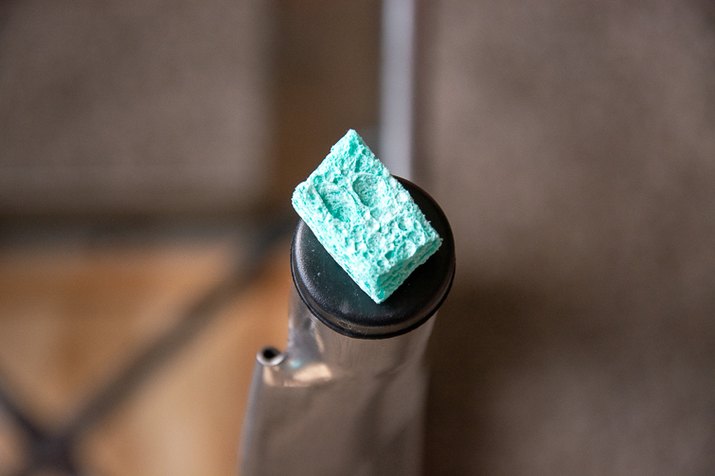 8 of 11
Riffing off our furniture shim hack, floor protectors fashioned from sponges are a wonderful way to coax a second life from materials you already have on hand, instead of buying a pointless specialty product from the store. Instructions: Similar to the furniture shim, trace a section of sponge the size of your furnishing's feet before cutting out the pads and securing them to the bottoms with a hot-glue gun or the adhesive of your choice.
Image Credit:

Ryan Tronier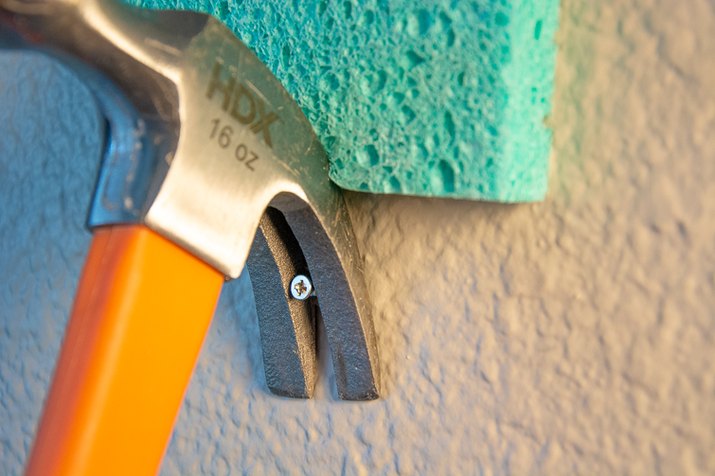 9 of 11
Sponges are an excellent solution to the problem of scuff marks and drywall dents caused by removing nails from picture frames and wall hangings with a hammer. Method: Place a sponge between the wall and your hammer, ensuring that the sponge covers the entirety of your hammer's head, throat and face. Press the hammer head into the sponge while simultaneously pulling on the claw to remove a nail or other fastener.
Image Credit:

Ryan Tronier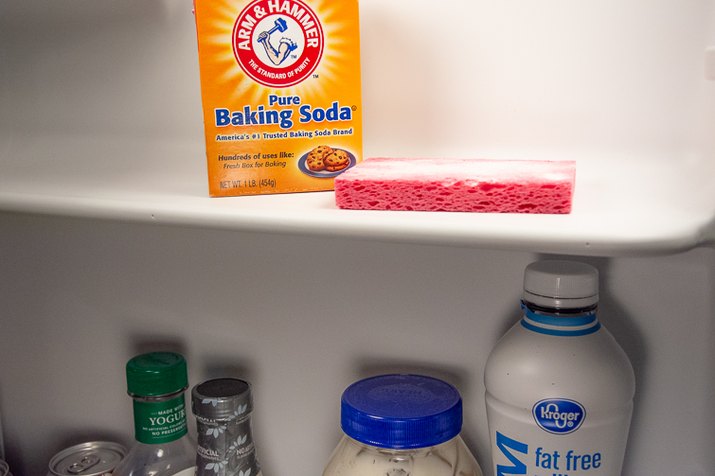 10 of 11
Here's an entirely different way to clean your fridge with a sponge that doesn't involve scrubbing and scouring. Supercharge your sponge's absorbent abilities by pairing it with baking soda to keep your fridge fresh and clean. Instructions: Allow a submerged sponge to soak in a mixture of 1/4 cup baking soda and 1/2 cup water for 60 seconds. Thoroughly squeeze the liquid from the sponge before placing the sponge strategically inside your fridge (towards the back, tucked away in the door, or in the crisper).
Image Credit:

Ryan Tronier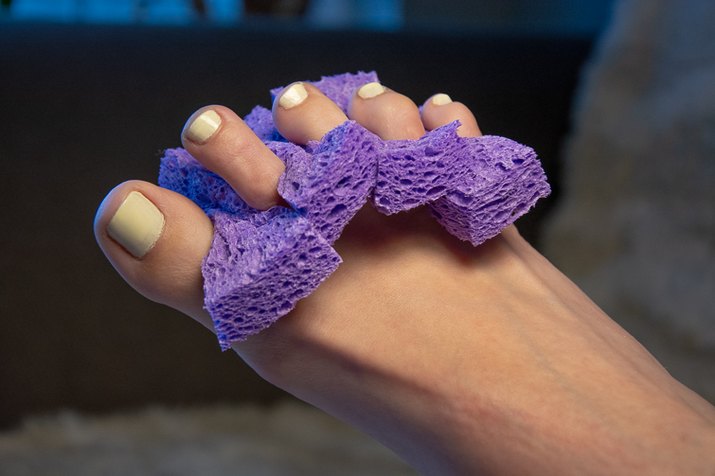 11 of 11
Amazon charges $12 for a multi-pack of pedicure sponges! Are they joking? Why pay good money for specialty sponges when you can cut up a 50-cent scrubbing sponge? This quick-and-dirty tip will keep your little piggies neat and tidy during your next at-home pedicure. Instructions: Cut sponge widthwise into 5-6 sections. Place the sections between your toes!
Image Credit:

Ryan Tronier