Yikes! What do you do when you pull one of your favorite sweaters from the dryer and it's covered in those dreaded pills? First, take a deep breath. Your sweater can look new again in no time.
First of all, those unsightly little balls are groups of short or broken fibers on the surface of the fabric that become tangled together to form a tiny ball called a pill. To hinder pills from appearing, turn your garment inside out before laundering and air-dry your clothes. Switching to a liquid laundry detergent and using the gentle cycle will also deter pilling. But sometimes, no matter how careful you are, you may end up with a garment covered in little fuzz balls.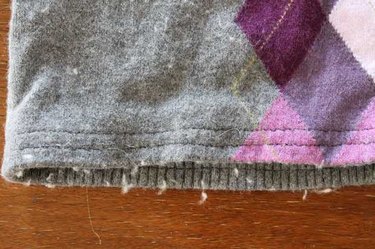 No need for despair. Just grab an ordinary razor from your medicine cabinet to get rid of those unattractive little pills.
Yes, I did say razor. All you have to do is shave your sweater with an everyday, run-of-the-mill razor. Steer clear of using razors with built in lotions or lubricants, though. Just use a plain-Jane razor. No need to buy any special equipment to get your sweater looking like new again.
Lay your sweater out on flat surface and proceed to "shave" it with the razor. Just press lightly, and take your time to prevent accidentally slicing a hole in the fabric. Continue until you've removed all of those nasty little balls.