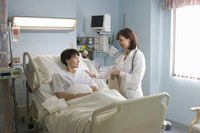 If you are hospitalized, your diet might need to be restricted or enhanced in some way. If you have had surgery on part of your digestive system or have just been diagnosed with an ailment, your diet might need to be altered, either permanently or just for a short time. The dietary department at the hospital can help you choose food that you enjoy on your prescribed diet.
Common Diets
According to Nutrition Services at Barton Memorial Hospital in California, the most common diets prescribed for hospital patients are clear liquid, full liquid and regular.
A clear liquid diet is often used first after surgery. It also might be ordered if you are awaiting a procedure. It includes liquids you can see through, such as broth, Popsicles, jello, and ginger ale or related types of liquids. It is meant to get the body used to digesting food again in preparation for shifting to a more normal menu.
A full liquid diet adds liquids made of dairy products, such as cream soups, milk, pudding, ice cream and yogurt. These two diets are usually prescribed in succession, and the patient then advances to a regular diet on which he is welcome to order whatever he likes from the hospital menu.
Therapeutic Diets
Therapeutic diets are prescribed for patients with specific conditions such as heart disease or diabetes. Heart patients are sometimes restricted in the use of salt, cholesterol and saturated fat. This "cardiac diet" encourages choices of fruits and vegetables, whole grains and lean meats. Red meat is limited, as is the consumption of egg yolks.
Diabetic diets are normally low is sugar and fat, and the doctor prescribes a specific number of calories per day as well. Low-sodium diets are ordered for those with kidney disease or high blood pressure, because the kidneys help to regulate sodium and fluid in the body as well as blood pressure. A low-sodium diet may also be ordered for someone who has a buildup of excess fluid.
Other Diets
Other types of diets are prescribed under certain circumstances. One is the low-bacteria diet for those on chemotherapy or with other conditions that suppress the immune system. A low-bacteria diet focuses on cooking food thoroughly, cleanliness of preparation, and practices such as not sharing food containers with others. It also discourages eating food that has been kept under warming lights or food from a salad bar or deli counter.
Another type of diet is for patients who have digestive ailments and require the "bland" diet. This consists of food that is easy to digest because it is soft, easy to chew and not heavily seasoned. The bland diet includes things such as cooked fruit, mashed potatoes, cottage cheese and cream of wheat.