Typical treatments for elevated levels of low-density lipoprotein, the "bad" cholesterol, include regular physical activity, weight loss, medication and a diet low in fat, particularly saturated fat. Some scientific research indicates that supplementing with certain common kitchen spices may also help reduce bad cholesterol, but more studies are needed before any spice can be recommended as safe and effective. Cooking with the spices may not yield the same benefits -- most research focuses on supplemental extracts. Do not attempt to self-treat high blood cholesterol with spices or dietary supplements containing large concentrations of spice compounds until you've spoken to your doctor.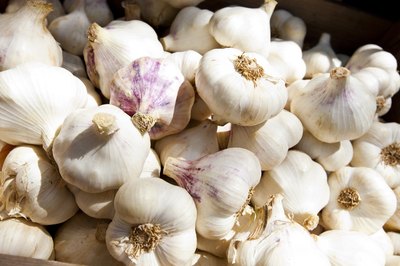 Use Fresh or Ground Ginger
A study published in 2008 in the "Saudi Medical Journal" examined the effect of taking powdered ginger daily had on the lipid levels of subjects diagnosed with high blood cholesterol. The researchers reported that ginger supplementation lowered LDL cholesterol levels and increased high-density lipoprotein, or "good" cholesterol.
Use powdered ginger in baked goods, salad dressings, sauces and marinades for meat, poultry or seafood. Freshly grated or sliced ginger is a common ingredient in curries and Asian dishes like stir-fries.
Ginger contains a compound that may increase the blood-thinning properties of anti-coagulants like warfarin or heparin. If you take these medications, consult your doctor before increasing your intake of ginger.
Stir in Some Cinnamon
Type-2 diabetics who supplemented with cinnamon daily for 40 days experienced as much as a 27 percent drop in their LDL cholesterol level, according to a "Diabetes Care" study published in 2003.
New York University Langone Medical Center points out that the results of this study haven't been successfully repeated in subsequent research: some studies show a decrease in cholesterol, but others don't. It's also not known if cinnamon has the same effect on the LDL cholesterol of nondiabetics or how much would be needed to duplicate the original study's result, if possible.
To include more cinnamon in your diet, mix it into hot cooked cereal or add it to the dry ingredients when baking.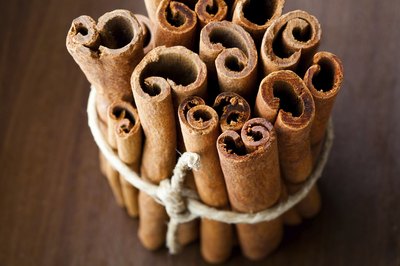 Experiment With Fenugreek
Fenugreek, also known as methi, is a spice derived from the seeds of a native Asian plant. Roasted, then ground, powdered fenugreek is often used in pickling spice mixtures, as an ingredient in curries and as a flavoring for meat, poultry or seafood.
The results of a study published in the "Indian Journal of Pharmacology" in 2000 indicate that supplementing with fenugreek powder may lower the total cholesterol level of people with high blood cholesterol. This effect may be due to fenugreek's high concentration of saponins, compounds that lower cholesterol production and absorption, and soluble fiber.
Enjoy Garlic
A number of studies, including one "Journal of Nutritional Biochemistry" study published in 2004, link garlic extract supplementation with lower total cholesterol and LDL levels. Other studies haven't shown any reduction in LDL cholesterol with increased garlic intake, however. In 2009, a review of 13 trials researching garlic's effect on cholesterol were published in the "Journal of Clinical Pharmacy and Therapeutics." The article concluded that there isn't sufficient scientific proof showing that any form of garlic, including raw or powdered garlic, has a significant impact on bad cholesterol.
Like ginger, garlic supplements may intensify the effects of blood thinners. While it's safe to include garlic in your cooking, don't take garlic supplements unless your doctor advises doing so.