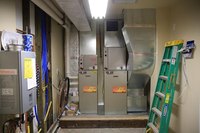 Facility maintenance planning involves setting operational and performance goals for the systems within a building. These plans should not only cover day-to-day cleaning and repairs, but also long-term maintenance and operations. The systems that allow a building to operate effectively may include everything from HVAC to communications, so careful planning is vital to successful maintenance.
Purpose
Facility maintenance typically has three distinct goals, though these may vary depending on the building. One of these is to keep the building functioning as intended while providing employees with a safe and healthy environment. This means keeping the building secure and free of safety hazards while controlling the use and storage of dangerous materials. It also requires that electrical, communications, and other necessary systems are kept in good working condition.
Another common goal of facility management teams is to maintain building systems and equipment. This helps protect the company's assets by prolonging the life of these tools. Proper maintenance is also required to maintain warranty protection.
Finally, many facilities are focused on efficient operation, which helps to keep expenses in check while minimizing the building's environmental impact.
Planning
The first step in facility maintenance planning is for the building management team to meet with upper-level company management members. Together these two groups can discuss the goals of the company and determine how effective facilities maintenance strategies can help with achieving these goals. For example if the goal is to cut expenses, maintenance can work to lower utility bills by switching to more effective lighting technologies.
Once goals have been established, management members can work to develop a budget that allows maintenance team members to pursue these goals. After the budget is set, the team will create guidelines aimed at each specific goal. The scope and extent of the plan will depend upon the systems in place within the building.
Assessment
After the plan has been set into motion, maintenance staff must find a way to schedule and evaluate operations tasks. Most larger facilities rely on Building Information Modeling (BIM) software. BIM programs keep track of scheduled maintenance and alert staff as to what needs to be done. These programs also track energy consumption and allow operators to adjust building controls based on occupant feedback. Using BIM reports, maintenance teams can assess the building's performance and refine goals and budgets accordingly.