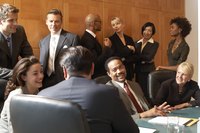 Nonprofits often create one-, three- and five-year strategic plans to keep the organization on track financially, to manage growth and to ensure the entity fulfills its overall mission. Nonprofit boards of directors can create strategic plans using a SWOT analysis that assess strengths, weaknesses, opportunities and threats of the organization.
Strengths
Nonprofit strategic plans can start with an analysis of what the organization is doing well. While you might not think you need to review successful operations, understanding why they are working can help you apply some of what you learn to other areas of your charity, foundation or association. Successes for nonprofits occur in the areas of fundraising, unrelated business income, non-dues revenues, membership, media coverage, attendance at meetings and events, operational cost-containment, staffing and partnerships. For some areas of a strategic plan, a board might set maintenance goals. In others, it might set incremental growth goals. In other areas, the board might make a full-court press to maximize performance. Be careful about going to the well too often, such as over-soliciting donors, holding too many fundraising events or attempting multiple membership drives. These strategies can backfire, costing you more than they return.
Weaknesses
New nonprofit board members might confuse expenses with losses. For example, a newsletter or magazine that doesn't sell enough advertising to cover its costs might seem like a loss. On the other hand, if the publication helps the organization increase membership, raise awareness and stimulate attendance at meetings, the expense might be worth it. On the other hand, an annual meeting that raises awareness about your organization and brings members and industry representatives together might be so costly the nonprofit can't properly fund other operations that would, in total, provide a bigger benefit. This means nonprofit strategic plans should carefully define success for each area they are examining. Nonprofit strategic planning includes setting goals for all of the operations of the organization and creating benchmarks to spot potential weaknesses.
Opportunities
Strategic plan examples for nonprofits that address opportunities include improving financial performance and awareness of the organization. To increase revenue, a strategic plan might include a multi-year plan to fund a new event or public outreach program. Another strategy might include hiring an executive director and then support staff as funds become available. This will require creating a future organization chart, job descriptions and budget. If a nonprofit has not pursued grant money, it might analyze the benefits of hiring a professional grant writer or creating a grants committee and seeking volunteers to do the work. To attract the best volunteers for committee and board service, nonprofits create succession strategic plans for recruiting, training and managing volunteers.
Threats
To prevent being blindsided by events that could seriously damage your nonprofit, look at potential threats to all areas of your operations. For example, a trade association might see a new technology making its members' product or service less desirable, leading to fewer companies in the industry. This can reduce membership, sponsor spending and meetings attendance. Planning to address negative growth can be a successful strategy if you budget and prepare for it. If a charity relies on a celebrity endorsement to help it raise funds, a strategic plan should address the loss of that endorser.