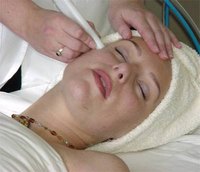 Acne scars are the unsightly remnants of years spent fighting acne. There are many treatments that treat and reduce acne scars, but many creams and topical medications can take months or years to work. Luckily, you have options to get rid of those scars fast and most of these treatments are just a doctor's visit away.
Microdermabrasion and Dermabrasion
One of the fastest (and most popular) ways to remove acne scars is through microdermabrasion. Microdermabrasion is a treatment that can be done at home, at a spa or at a doctor's office and takes only 30 minutes to an hour to complete. Microdermabrasion machines look like little sanding machines. They are usually made of a compressor, pump and suction device that work together to gently peel off the top layer of the skin (the epidermis). The procedure can also be done on other problem areas of the body like the back, neck, chest, feet and arms.
Dermabrasion, on the other hand, can be done effectively only by a dermatologist. Dermabrasion consists of using a strong wire brush to physically slough off the epidermis to reveal the underlying layer of skin. Undergoing this procedure is painful and can leave your face red and raw for several weeks. If you opt to have this procedure, know that you'll need to schedule some downtime to allow your skin to heal and for the redness to go away.
Chemical Peel
Chemical peels consist of applying a specialized chemical solution to the face, causing it to blister and "peel" off. The skin that's revealed is the underlying layer of the skin, which is smoother. Chemical peels work best on fair-skinned individuals because it's hard to predict the reaction of darker skin to the chemical solution.
The application of the chemical solution doesn't require a long visit to the doctor's office. However, the skin can take weeks to peel off completely, leaving you with a dry, scaly face until all of the affected skin peels off. During this time, it's important to avoid overexposure to the sun because the new skin is more sensitive.
Laser Resurfacing
Laser resurfacing is one of the latest innovations in acne scar treatments and is highly effective. The process involves penetrating the epidermis with a laser to remove it and tighten the second layer. This process, like dermabrasion, can be painful. However, most dermatologists use numbing agents or local anesthetics to reduce pain.
The procedure takes about an hour in the office to complete, but it may take more than one treatment to get the full effects. You can expect your skin to develop a red, crusty appearance in the days following the procedure. The skin will retain a pink coloration for several weeks post-procedure.
Like chemical peels, laser resurfacing works best on fair skin. Darker skin can take several months to regain its normal pigmentation after the procedure.
Cost
The downside to many of these treatments is the cost. These procedures are considered cosmetic and few health insurance companies cover them. However, if you're looking to quickly get rid of your acne scars, there isn't a treatment out there that is both fast and cheap. Paying for quality will get you quality results.
Prevention
The old adage "an ounce of prevention is worth a pound of cure" rings especially true when it comes to acne scarring. While you can't totally prevent acne, you can do your part to minimize breakouts. Proactive prevention includes maintaining a skin-care routine that includes an acne-fighting cleanser, toner and moisturizer along with blemish-fighting topical treatments containing benzoyl peroxide. A skin-care routine like this eliminates pimple-causing oil and bacteria on the skin. The more acne you prevent from occurring, the fewer scars you will have.