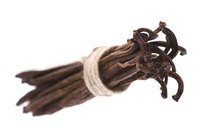 The ageless scent of vanilla is sweet and breezy with undertones of depth and mystery; it's not surprising that the essence is a popular ingredient in cooking and beauty therapy. Vanilla is available in many different forms--from actual vanilla pods to the extracted vanilla oil--which means that anyone can enjoy the complexities of the delicious scent. The warm and welcoming aroma brings back childhood memories and is often used in aromatherapy to relax the mind.
Beauty Sleep
Sleep is essential in keeping you physically and mentally healthy; it is recommended that adults get at least 8 hours of sleep a night. During the night, skin cells repair themselves. Lack of sleep can show up in the form of a dull complexion and dark circles under the eyes.
Vanilla extract has long been used to treat a variety of conditions including sleeping difficulties. The essential oil reportedly contains sedative like properties and is used by some practitioners to treat insomnia, anxiety and depression. Try spritzing vanilla body spray onto your pillow before you lie down for the night. The soothing smell should relax your mind and help you drift off to sleep.
Vanilla Bath
Indulge your mind, body and skin with a homemade foaming vanilla bath. The soothing vanilla oil helps relax nerves, and the anti-inflammatory properties help ease muscle strain and tension. A relaxed mind and body also improve posture naturally, which enhances your silhouette.
Mix together 1 cup sweet almond oil with 1/2 cup honey, 1/2 cup liquid soap and 1 tbsp. vanilla extract. Pour the liquid in a plastic bottle with a tight-fitting lid. Shake gently before use and enjoy the warm and welcoming aroma of vanilla with every bath.
Body Polish
Vanilla isn't just a pretty scent. The active ingredient in vanilla, vanillin, is an antioxidant, which is useful in helping the body repair damage.
Mix 8 cups of light brown sugar with 2 cups of avocado oil; take care when mixing to ensure the sugar doesn't dissolve into a thin paste. Mix 1 cup of apricot or peach kernel oil into the mixture and stir slowly to keep the consistency smooth. Add 8 drops of vanilla essential oil and pour the mixture into a large container for storage. This makes a great body polish and is perfect for skin exfoliation, because the sugar granules removes dead skin cells and allow the antioxidants to sink deeper into the skin.
Homemade Lip Balm
Vanilla is always a hot ingredient in the beauty market, adding an alluring scent to cosmetic products. Store-bought products can be expensive and you don't always know what chemicals they may contain. Luckily, vanilla extract is readily available, so you can save time and money by making your own delicious smelling beauty products.
Make vanilla lip balm by mixing 2 tbsp. petroleum jelly and 1 tbsp. beeswax in a microwavable bowl and microwaving for 5 minutes. Stir the ingredients with a spoon and add 1 tsp. honey and 1 tsp. vanilla extract. Allow to cool and pour the mixture into a lip balm container. The honey and vanilla combination tastes great and leaves your lips feeling supple and soft.