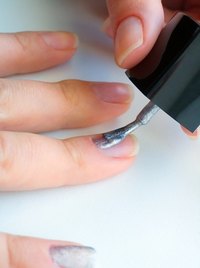 If you are looking to add a splash of color to your life, look no further than your fingertips. Simple and relatively inexpensive if you do it yourself, a polished manicure can bring life to otherwise dull hands. You don't need to have long fingernails to pull off the hottest painted nail art seen on celebrities and runways around the world. Short nails can look just as stylish without the maintenance and inconvenience of their longer counterparts.
Twist of French
Do not let anyone tell you that if you have short nails, you can't pull off a French manicure. If you prefer the traditional pink and white coloring, be sure to paint the white part less thick than normal, so you don't accentuate the shortness of your nails. For a twist on the traditional French manicure, paint a thin black or dark-colored bordering line between the white tip and the pink nail. Finish with a layer of clear polish with sparkles, to give a more glamorous look. For those with a particularly steady hand, paint a tiny band of black dots beneath the black thin line for additional flair. On every other dot, glue a tiny pink sparkle for eye-catching bling.
Designer Chic
If you are a fashion-forward diva on a consignment shop budget, pay homage to your favorite designer label on your nails. For those with a love of all things Burberry, replicate its iconic plaid on each of your 10 fingers. You do not necessarily need to use the exact beige, black and burgundy color palette that made Burberry famous; be creative and use your own palette. Shades of pink, blue, purple and gray will look stunning in this plaid pattern. Be sure to use an image of a purse or scarf as both a guide and an inspiration. The key is that every nail looks close and relatively uniform. Similarly, if you are a Louis Vuitton lover, paint your nails a medium-brownish tone with a repetitive pattern of beige symbols, as simple or as detailed as you desire.
Sports Fanatic
Who says you can't be girly and love sports? Pay tribute to your favorite sports team with a color-coordinated design on your nails. For football lovers, recreate the helmet of your beloved team. For those who cheer the Ohio State Buckeyes, for example, paint a metallic silver base on each nail. On opposing ring fingers, or on every nail if you prefer, add a thick vertical right stripe spanning the length of the nail. Wait for the white to dry well before outlining the stripe with thin black lines on each side. Finish by painting a centered scarlet stripe thinner than the white stripe but thicker than the black stripes. If you are feeling particularly creative, replicate the little buckeyes the team earns throughout the season with glued-on black sparkles.