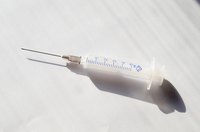 Heparin is a blood thinner, or anticoagulant. It is used to prevent blood clots in the lungs, veins or arteries. It may be used before surgery in some patients to help reduce the risk of clots forming. Heparin is given as an injection into your vein--not into the muscle. Depending on your condition, your doctor may administer a heparin drip, either continuous or intermittent. Many doctors and hospitals have a heparin drip protocol doctors and nurses must follow. It helps prevent heparin overdose in patients and severe side effects (which can include excessive hemorrhage). At some hospitals, heparin is considered a "high alert" medication, and two nurses may be required to be present at the time of IV administration in order to reduce the risk of human error.
Obtain Baseline
Check APTT (activated partial thromboplastin time), PTT (partial thromboplastin time) and run a CBC (complete blood count). A PTT screens for coagulation disorders. An APTT monitors the heparin therapy and will detect deficiencies in the intrinsic coagulation system.
Calculate Dosage and Rate
There are generally two ways a protocol may list how to calculate the dosage. One is by weight, and another is after a person has had a stroke. A doctor has final say in the dosage for the individual patient. For example, Oregon Health and Science University recommends 80 units/kg bolus (based upon patient's actual body weight) and begin the infusion at 18 units/kg per hour. Age and gender may also play a role in determining the correct dosage.
Check CBC, APTT and PTT
Some protocols call for a CBC to be run daily, while others may require it every two or three days. Some protocols may recommend checking the APTT and PTT six hours after the start of the drip. Depending on hospital policy or doctor's orders, these lab tests may be run more or less frequently. Some doctors may order these labs done until the patient has had two values within therapeutic range.
Check for Signs and Symptoms of Bleeding
While some patients may experience mild side effects, such as pain or irritation at the injection site, it is important to monitor them for black or bloody stools, bleeding from the gums, coughing up blood, nosebleeds, calf or leg pain, numbness, chest pain, excessive bleeding from cuts and other severe symptoms.