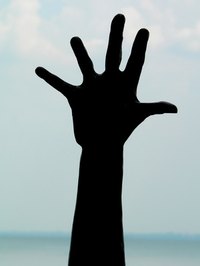 If you have a finger that sticks, clicks, pops or locks when you try to straighten it, you may have trigger finger. This common, painful condition results when a tendon on the underside of your finger can't slide easily through the sheath surrounding it. Usually, that happens when the sheath becomes irritated and inflamed, making its opening too narrow for the tendon to move freely. The inflammation that underlies trigger finger may have several causes.
Strain
According to the staff at the Mayo Clinic.com, overusing or straining your hands and fingers may irritate the lining of the tendon sheath, causing it to become inflamed. A swollen, inflamed sheath reduces the space available for the tendon. The strain of sliding through the too-tight sheath may then irritate the tendon itself. As a result, it may develop nodules, which can make it yet more difficult for the tendon to slide through its sheath, according to the American Society for Surgery of the Hand (ASSH). If the sheath is restricted enough or a nodule grows big enough, the finger may not straighten at all.
In an investigation by the National Institute of Occupational Safety and Health, the reported greatest risks for disorders like trigger finger came from jobs that cause pronounced vibration in the hands or required the use of great force when working with the hands. Even prolonged use of power tools could cause enough vibration and stress to irritate the tendons in your hands.
Certain Diseases
The Cleveland Clinic reports that the effects of certain inflammatory conditions, such as rheumatoid arthritis, diabetes and gout, can extend to tendons in the hands, causing or worsening trigger finger.
Age and Sex
According to authors writing in the British Medical Journal, trigger finger is most likely to surface in people ages 40 to 60. The authors also report that women are six times more likely than men to develop trigger finger. So, especially if you overuse your hands or have an inflammatory disease, your age and sex may make you even more likely to develop trigger finger.
Symptoms may start after a period of overuse, or they may start without any known reason. If they become severe or last too long, you may need treatment. According to the ASSH, common treatments include resting your finger, commonly by splinting it, taking over-the-counter pain medications, and possibly getting a steroid injection. If these treatments fail, you may need surgery to release the sheath and allow the tendon to move freely once again. (see reference 5)