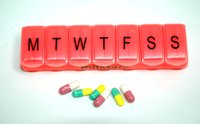 Phentermine is a drug that is approved by FDA to help with weight loss. When used in conjunction with diet and exercise, phentermine can help you lose weight by decreasing your appetite. Phentermine is sold under the brand names Adipex-P and Lonamin, and is frequently prescribed in a 37.5 mg dose. Like all drugs, there are certain side effects that may occur when you take Phentermine 37.5 mg. Talk to your doctor before taking Phentermine or any other medication.
Pre-existing Conditions
Certain pre-existing medical conditions increase the chance of harmful side effects while taking Phentermine. These conditions include heart disease, high blood pressure, overactive thyroid, diabetes, glaucoma, and drug abuse. Tell your doctor if you have ever suffered from any of these conditions.
Drug Interactions
Tell your doctor if you take any other medications to make certain that you are not at risk for a harmful drug interaction. Drugs that are known to potentially interact with Phentermine include Prozac; Zoloft; Paxil; MAOIs, such as Nardil and Parnate; and other depression or weight-loss medications. Consumption of certain vitamins can also interact with Phenteramine.
Interaction with Insulin Treatment
Consumption of Phentermine can inhibit insulin levels in the body. If you are diabetic and take insulin then you may need to take a larger dose of insulin while you are take Phentermine.
Common Side Effects
There are several common side effects associated with Phentermine use. The most common side effect is drowsiness. Remember that alcohol consumption can interact with the drug to increase drowsiness. Other less-common side effects include dry mouth, an unpleasant taste in the mouth, diarrhea, constipation and vomiting. Tell your doctor if any of these side effects are severe or persistent.
Rare Side Effects
Occasionally people who take Phentermine experience serious adverse effects. If you experience increased blood pressure, heart palpitations, extreme restlessness or dizziness, tremor, insomnia, shortness of breath, chest pain, swelling of the lower extremities, or difficulty doing exercise that you used to find easy then you may be experiencing a severe adverse reaction. Contact your doctor immediately if you experience any of these side effects.