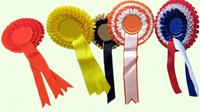 Employers use incentive plans to motivate employees to achieve performance goals. These goals may relate to an organization's long-term objectives, or they may relate to objectives for special projects or initiatives. Employees must understand the reason for incentive plans. They must also decide if the incentive makes it worth the extra effort before increasing their performance. Without enough employees trying to reach an incentive goal, the organization will not achieve its objectives, the reasons the incentive plan was created.
Employee Recognition
Some incentive plans offer only employee recognition for employees who reach their goals under the plan. This type of incentive will not motivate everyone. One study by the Forum for People Performance Management and Measurement found employee recognition to be the most common tactic used by managers. You can design a special recognition program to achieve organizational objectives if you have seen it used successfully in your organization. Another option is to survey employees to see if a recognition program is desired.
Cash or Non-Cash Incentives
Other incentive plans give tangible rewards to employees. For example, employees might be motivated with cash awards, gift certificates, bonuses, variable pay programs, merchandise, travel and other rewards. These incentives have a monetary value, but only cash awards, bonuses and extra pay incentives are used at an employee's discretion. Organizations must study if the cost of these incentives are worth the benefits for achieving organizational objectives.
Eligibility
An organization must identify all employees who will be eligible for each incentive plan. For example, a plan might apply to senior managers, all managers, support staff or sales personnel. This type of decision should make sense according to each objective targeted by an incentive plan.
Performance Measures
Employers should specify what performance measures are used to determine if employees receive an incentive. Measures may target individual or group performance. If an employer wants to avoid legal problems, it will tie performance measures to employee jobs (perhaps even existing performance measures). Incentives should be awarded fairly and consistently so favored employees do not receive incentives they don't deserve.