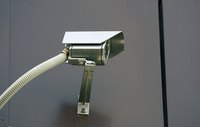 Retail stores have a number of different security precautions to protect their products, employees and their customers from theft or other criminal activity. These precautions range from different systems of technology installed within the stores to actual security guards standing watch over the products. These precautions can be expensive but effective.
Security Cameras
Retail stores often install a security camera system.These cameras are installed along the walls or in the ceilings to get a full bird's eye view of the activity going on throughout the store. The footage that is captured by these security cameras is recorded on a tape or a hard drive and can be reviewed or submitted as evidence if a crime occurs. While these cameras are expensive to install and must have someone who is trained to maintain and operate them, they are effective as a non-invasive form of security that doesn't make good customers feel they are being watched and that protects not just against theft, but other crimes as well.
Security Tags and System
Many retail stores use a security tag system on all of their clothes and at every entrance and exit to the store. Those plastic towers we walk past when we enter a retail store have sensors within them, and when one of the tags passes through these sensors, an alarm sounds that alerts employees and store security. The tags are designed so that removing them without the special device available to employees will damage the product . This is a security precaution that protects solely against theft.
Security Guards
Having a security guard standing watch in the retail store is another option. Hiring someone who is trained to look for shoplifters and to wander the store checking out customers or checking bags and receipts when all customers leave, will greatly reduce the number of thefts that occur. It can also protect shoppers and employees from other crimes. However, a security guard is an ongoing expense and is also an invasive security measure, making some customers feel uncomfortable that they are being watched by another person while they shop.