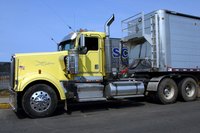 When businesses purchase merchandise and goods, every order includes shipping terms. Shipping terms simply state who pays for the transportation costs of the goods and when ownership rights are exchanged. There are two main types of shipping terms and each has a different set of rules. Some shipping terms require journal entries for proper accounting records.
FOB Shipping Point
Free on board, or FOB, shipping point implies terms of sale under which title of goods passes to the buyer at the point of shipment. FOB shipping point is sometimes called FOB origin.
FOB Destination
If goods are shipped FOB destination, the buyer doesn't hold title until he receives the item. The seller owns the goods until they arrives at their destination. The seller also is responsible for paying all shipping costs for the goods. The buyer of the goods under this contract does not add the inventory to his balance sheet until he receives the goods. Since the buyer incurs no transportation costs, no journal entry is required for these costs. However, the seller must record a journal entry for this transaction.
Other Terms
FAS, free along side, represents sales made and delivered to a port. The seller, who pays all shipping costs, is responsible for the goods until they reach the port. Ex is a shipping term, short for representing the seller must deliver goods to the buyer off a ship at its destination and the goods must be free of all liens.