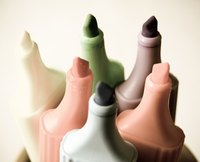 Skunk hairstyles are a byproduct of the cultural/rock music movements known as Goth and emotive (or emo for short). For skunk hairstyles, women and men typically die their hair black and have one, or several, bleached stripes of hair. This resembles the white stripe down a skunk's back. Blake Lewis, the "American Idol" runner-up during its sixth season, helped popularize the style by sporting a skunk stripe on the show.
Skunk Bangs
One version of a woman's skunk hairstyle uses only the bangs. The woman dyes all of her hair jet black, then dyes white skunk strips vertically from the top of her bangs to the bottom. This can be a difficult style to maintain because bangs grow faster and are more prominent than other parts of the hair. Your root color will be exposed relatively soon after you die your bangs. Some women also choose to die their bangs in horizontal stripes. Others choose to die all of their bangs platinum.
Black Underneath Blonde
Some blonde-haired women choose to use black dye for their hair's undercolor at the nape of the neck. This look can contrast the blonde on top and can make it stand out more. However, if your hair is very blonde, be aware that the undercolor might contrast dramatically. You should only attempt this dramatic look if you are attempting a skunk hairstyle.
Chunky Skunk Streaks
Another more subtle way of achieving the skunk hairstyle is to dye your hair black and then add platinum blonde chunks. These chunks will stand out against the dark hair no matter how you do your hair. You can make the style subtler by lightening the base color to a very dark brown.
Shorter Skunk Layer
This style is based on a popular Goth haircut. Most of the hair falls below the shoulders, but the top layer is cut above the ears. This lets women spike the hair with a gel. Some women choose to die that layer platinum while leaving the rest of the hair a darker color.
Men's Skunk Style
Men's hair, and short hair on women, more closely resemble the look of an actual skunk, because skunks have short hair. Men simply dye their hair jet black, then bleach the middle portion platinum, blond or white. They can use gel or mousse to style their hair in points on the side of the head to resemble a skunk's back. Some men choose a minimalist style and simply dye a few streaks. Women with short hair have the same options.