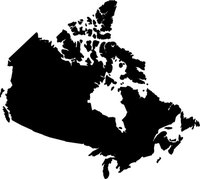 When it comes to considering a place to retire in Canada, the main drawback is that the country's livable space spreads from east to west, the result of which means less weather variances. This in turn forces Canadians to establish new priorities in evaluating where to settle down in retirement. With new priorities such as affordable housing, accessibility of health and basic services, and the beauty of the surroundings, you get a choice of retirement locations just as ideal as if they were situated in a year-round warm and sunny climate.
Annapolis Valley, Nova Scotia
The Annapolis River stretches from the university town of Wolfville all the way to the Bay of Fundy in Digby, carving a valley that holds the heat in summer and holds off a lot of the snow in the winter. Because of the remoteness of the region, the population is quite thin, allowing for property values to remain significantly more affordable than average. The towns of Kentville, Middleton, Bridgetown, Annapolis Royal and Digby contain all the basic services while continuing to offer the peace and tranquility of small town life.

Eastern Townships, Québec
Just a 90-minutes' drive east of Montreal you'll find a spectacular area of lakes and hills, ski resorts and golf courses, dotted with welcoming small towns where both English and French thrive side by side. Sherbrooke is a full-service town with a world class university hospital, but the minute you leave the town limits, you'll feel as though you've walked straight into a postcard. The fall colors will rejuvenate your spirit every September.
Niagara Peninsula, Ontario
Less than a two hours' drive from Toronto and less than an hour from Hamilton, this fertile region dotted with vineyards, orchards and vegetable farms beckons the traveler and peace seeker alike. Leave Niagara Falls to the tourists and seek out your oasis of tranquility in towns like Welland, Thorold, and Caledonia, or get yourself a waterfront view along the shores of Lake Erie.

Okanagan Valley, British Columbia
Clear across the Rocky Mountains, in the interior of British Columbia, developers discovered this idyllic setting years ago and now accommodations and services abound around larger centers like Kelowna and Vernon, and smaller towns such as Penticton and Osoyoos. You'll find bargains if you look hard enough and will be rewarded with a sun-drenched sports enthusiast's paradise in summer, and mild winters with countless choices for snow sports. Wine production, cherries and peaches abound, with every square inch of fertile soil covered with vineyards and orchards.

Parksville, British Columbia
Head north from Victoria on Vancouver Island and don't stop until you've hit the Parksville, Qualicum Beach area, where you can still find affordable housing in the one area of Canada where the Pacific coast climate keeps the winters mild. This area of Vancouver Island is fully developed and you will find all the required services, but you will be surrounded with mountains and water that will keep your spirits soaring.