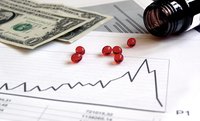 The government and the Federal Reserve frequently use economic tools to make decisions. One primary tool the Fed uses is interest rates, which are used to combat inflation and keep the economy stable. However, businesses of all sizes can use economic tools to make smarter business decisions.
Econometric Tools
Econometrics is a primary decision-making tool. This field incorporates many disciplines, such as math, statistics and economic theory. Economists apply their knowledge of the market and insert their analysis into a statistical software program, such as Excel or Citrix. A forecaster places certain weights on previous data, such as the past three months or the past year, and weighs it against current data, such as home construction figures. Statistical tools are used most effectively when the user has a strong understanding of economic forces. For instance, an economist predicting home values who also predicts a rise in inflation, as a result of a change in interest rates, will achieve a better prediction than someone with no knowledge of economics.
Economic Indicators
Managers use economic indicators as tools in the decision-making process. These figures express the overall health of the economy and are released by a number of government organizations, including the U.S. Department of Commerce and the Census Bureau. Economic indicators include the unemployment rate, personal income and durable goods figures. Another primary indicator is the Gross Domestic Product, or GDP, which measures the country's total economic output. Business strategists use these numbers to make decisions, such as increasing purchasing orders, issuing layoffs or decreasing production. For example, if a business sees that fewer jobs were added to the U.S. economy, it may be less likely to hire candidates with the belief that fewer people have money to spend on its products. On the other hand, an increase in the sale of durable goods, such as cars, might compel a business to increase its production if it is in a closely-related industry, such as steel. Thus, economic indicators are a useful tool though they can create a self-fulfilling prophecy: If a company notices a decrease in personal income, layoffs might be issued. In turn, this further lowers the personal income figure.
Economic Graphs
Graphs provide pictures of a certain business situation. Typical economic graphs include a profit maximization model and a supply and demand graph. Both of these graphs are useful for business managers: a profit maximization model explains at what cost and quantity goods should be produced and sold. A supply and demand graph illustrates at what price consumers are willing to buy the company's goods or services. These two basic graphs help companies assess if their business is viable in the long-run.