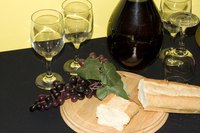 Corporate summer outings not only offer employees the chance to spend time together in a non-corporate setting and enjoy the summer season, they also give management the opportunity to further shape the company culture. Whether you're planning a summer outing for a company with five employees or five thousand employees, get clear on the company's goals and budget for the outing to help find the perfect destination.
Amusement Park
Head to the nearest amusement park--charter a fancy bus if it's a long drive--and spend the day feeling like a kid again. If some meeting time will be required, schedule it for the bus ride or immediately upon arrival at the park, as once employees are "set loose," it may be very difficult to round them all up again. Reserve a park pavilion or building for the meeting to minimize distractions. If you travel to the park as a group, set clear guidelines for meeting up again at the end of the day, and make sure someone is designated to take a head count and have everyone's cell phone number. Most amusement parks offer group discounts. This kind of summer outing is best suited for a small or medium-size company that doesn't need employees to get much done on the outing day.
Beach
Bring employees to the beach if you're looking to keep costs low. Even if you have to pay to rent beach-house space for a meeting, the overall cost will still likely be much lower than if you went to an amusement park or similarly pricey venue. Provide a catered lunch or hire people to prepare lunch on-site. (An Inc.com article on summer sales meetings referenced one such meeting that concluded with the company's co-founders cooking dinner for everyone--"salmon on the grill.") The beach is a location well-suited for summer outings that include employees' families, as people of almost any age can enjoy playing in the sand or in the water, or just relaxing under a sun umbrella. Put someone in charge of bringing sunscreen, sunglasses and beach chairs. Alternately, hand out gift bags that include such items.
Nature Preserve
Trek through a nature preserve with an expert guide, spotting wildlife and wildflowers and learning about the great outdoors, for an unusual option that puts the "out" in "outing." Some nature centers offer wheelchair-accessible trails and even free naturalist-led tours. (Even if the tour and use of the center is free, donate a generous sum as a thank-you for the service.) Nature treks make a neat fit for a company in the apparel or equipment business, or for a company focusing on improving its environmental record. Variations on the nature-trek outing include a photographer-led afternoon seminar on nature photography and a trip to a local zoo.