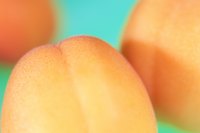 While the sweet flesh of the apricot teases the taste buds, the bitter core lends itself to a lightly fragrant, cold-pressed oil that shows up in everything from healthy recipes to foot scrubs. In the beauty world, apricot kernel oil -- typically available from online and brick-and-mortar beauty shops and essential oil sellers -- offers moisturizing and protective benefits for both the skin and hair when applied topically.
Supple Skin
Apricot kernel oil packs a lineup of vitamins that promote healthy skin. Its antioxidant vitamin C content fights skin-damaging free radicals and promotes collagen synthesis, the latter of which may reduce the appearance of wrinkles. Like vitamin C, the vitamin E found in apricot kernel oil absorbs potentially harmful UV rays, a factor in the creation of rough skin, spots and lines. Apricot oil also serves as simple moisturizer, due to its fatty acid content.
Shiny Hair
As a polyunsaturated oil, apricot oil serves as a hair conditioner that's big on moisture but light on residue. Used as a leave-in conditioner or deep-conditioning treatment, apricot kernel oil not only offers hair-friendly vitamins such as A, D and E, it hydrates the hair by sealing in moisture. This natural remedy also eases split ends and increases the hair's shine.
More About Apricot Oil
Apricot kernel oil appears as an ingredient in off-the-shelf beauty products ranging from soaps to cuticle oils, and it also serves as a home remedy -- you can apply the oil solo as a simple moisturizer or include it in your DIY beauty recipes, such as eye creams or foot scrubs. As a carrier oil, apricot oil often serves as a base ingredient for mixing with other ingredients, such as complementary essential oils for skin and hair care. No matter what you use it for, apricot kernel oil features a lightly sweet, subtly nutty fragrance.
Beauty Blends
While apricot kernel oil works just fine as a solo skin moisturizer or hair conditioner, it also plays well with others. For a nightly eye cream, combine equal parts apricot oil and grated beeswax with a half part aloe vera gel, a squeeze or two from a vitamin E capsule and a few drops of grapefruit seed essential oil. Mix about one part apricot oil, three parts each of Epsom salt and liquid castile soap and a few drops of the essential oil of your choice for a homemade foot scrub, or cut apricot oil with essential oils for a simple massage mixture.