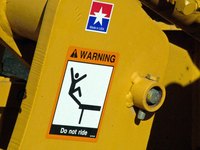 Employers are obligated to ensure the safety and well-being of their employees. Workplace safety policies and procedures are in place to prevent injury and illness. The Occupational Safety and Health Administration (OSHA) enforces workplace safety regulations and provides resources to employers to make sure they are compliant with federal and local safety guidelines.
Emergency Evacuation
Employers must prepare for potential emergencies before they happen. The OSHA assists employers with implementing evacuation plans to streamline exit procedures in the event of emergencies such as fires, natural disasters, explosions, toxic materials, or workplace violence.
According to OSHA, exit routes must be permanent and "separated by fire resistant materials." At least two exit routes must be available and doors must be self-closing. Employees are required to follow evacuation procedures according to the design of the building where they work. For example, in the event of an emergency, employees must evacuate their building promptly by following designated exit routes. Once employees have safely exited their building, they must report to assigned meeting places so they may be accounted for.
Workplace Hazards
Employees are exposed to many different hazards in the workplace. Procedures are in place to help employers and employees recognize those hazards and protect against illness and injury that could result from exposure to them. Employers are obligated to utilize tools such as Safety and Health Information Bulletins and Technical Information Bulletins to alert workers of the possible hazards that exist in the workplace. If an employee recognizes a potential threat to office safety, an exposed electrical wire for instance, he or she must report the hazard to a facilities manager or supervisor so that it may be corrected.
Health Policies
Office workers are exposed to bacteria, viruses and other diseases that threaten workplace safety. Employees that practice poor hygiene are also a tremendous risk to the overall health and well-being of their co-workers. Some workers are exposed to hazards beyond their control such as biological and chemical agents that create adverse health affects. OSHA standards require employers to keep employee medical records, as well as records regarding occupational injuries or illness. To prevent epidemiological concerns, employers must also monitor hazardous chemicals in the workplace that could possibly result in conditions such as asthma or cancer.