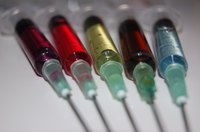 In hospitals, medical offices and clinics, medical assistants administer most if not all injectable medications. Medical assistants are trained to give intramuscular, subcutaneous and intradermal injections with ease and a calming demeanor. Being able to educate, explain and execute injectable procedures to patients is a skill all medical assistants need to acquire with experience.
Vaccines
Influenza, tetanus, hepatitis and human papilloma virus immunizations are administered by trained medical assistants. These vaccines are intramuscular, meaning they are given directly into the muscle at a 90 degree angle. Vaccines are considered preventive medicine and ordered by physicians in all medical settings. Medical assistants must be comfortable administering these immunizations.
Hormones
Medical assistants inject patients with several types of hormones, including oral contraceptives, progesterone and estradoil. Medical assistants who work primarily in obstetrics and gynecology become very familiar with dosage and administration techniques of hormones. Like vaccines, hormones are injected intramuscularly. The medication can travel to the entire body after being inserted into the muscle.
Medications
Medical assistants must be fully trained to administer and teach patients about antibiotics, insulin and vitamins such as B12. The accurate dispersion of these medications is crucial due to the severe consequences if administered incorrectly. Medical assistants are required to obtain certification in pharmaceutical education before administering these medications.
Intradermal Testing
Medical assistants often perform injectable intradermal allergy and tuberculosis testing. These injections are done just below the surface of the skin at a 15 to 20 degree angle. After the allergin is injected, the medical assistant observes the reaction under the skin and records the results for the doctor to read and inform the patient. These injections are most often performed in hospital and dermatologist medical settings.