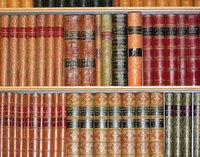 How can you drive customers into your bookstore? The vast array of topics available allow for an imaginative book display for your storefront. Lure customers passing by with creative displays using books, props and employees.
Live Audio Display
Audio books are a popular alternative to traditional books because they're accessible while driving, working out or doing other physical activities. Make your new series of audio books the focal point of your display by turning one of your employees into a live display. Have the employee lie flat on the floor with his head propped on a pillow. On a sign in the corner, print "Sssshhh, he's learning..." and attach the audio CD case to the bottom of the sign.
Mass Appeal
Fill your entire storefront with books stacked in vertical rows. Pack the books into the storefront so there's no room between each book. Choose books with brightly colored jackets so the display stands out from the street. The key is to make the clutter look intentional by neatly stacking the books and putting your cleanest books up front. On a large banner hanging in front of your store, print "Yes, we really do have everything." The filled storefront showcases your large inventory of books in a creative way.
Book People
For a children's book display, turn your books into little people. Create a full town of people out of books. Add colored wigs, doll clothes and tiny shoes to the books and position them on book stands to tell a story. Each week, you can change the characters to represent a different story. Offer a gift card to the customer who can guess which story is represented.