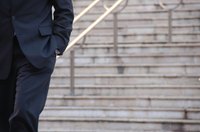 In sales it is important to keep your key accounts happy and producing revenue. A key account can take many years to develop, but it can be lost in moments if you do not use the right key account management techniques. Learn to be effective in the time that you spend administering and managing your key revenue-generating accounts to help increase your income.
SPIN
According to Money Instructor, the SPIN method of key account management can be effective in staying proactive with your major customers. You start the SPIN method by analyzing your account's situation and getting an understanding of their business model. Once you understand their business, you begin to identify problems that you feel your company can solve. You then move to getting your account to understand the implications of what you have uncovered, and how it can affect their business. It could be a loss in revenue to the client, or it could be a loss in their competitive advantage in the marketplace. The final part of the process is satisfying your customer's need for a solution. The SPIN method is something that a proactive sales professional employs on a regular basis with all key accounts.
Plan Ahead
Key accounts look to you, as their sales representative, to identify not only existing problems, but also potential challenges that could come up in the future. Take the time to get involved in your key accounts' business. Research the marketplace and understand the dynamic of the competition between your client and the other companies in the industry. Try to help your client identify problems before they arise, and you can become a valuable source of products as well as information for their business.
Keep the Balance
It is important to remember that your key account is a business relationship. A good sales professional finds out as much as possible about their key accounts, and offers personal touches to the relationship that help the client to feel comfortable when doing business. However, it is important to not lose sight of the business relationship. Do not assume that a personal friendship will be enough to maintain your business relationship with your key clients. Maintain a professional approach at all times, and learn to maintain the balance between personal and business.