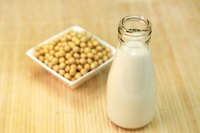 If you're trying to add more soy to your diet to gain some of the health benefits, soy milk makes a convenient option. Plus, it may make a good replacement for your usual cow's milk. While soy milk does offer some health benefits, you may need to watch your intake if you have a history of breast cancer. There are also concerns over some of the ingredients in your container of soy milk.
Alternative to Cow's Milk
If you have an allergy to cow's milk or difficulty digesting lactose, soy milk makes a healthy alternative. With 100 calories and 6 grams of protein in a 1-cup serving, soy milk is somewhat nutritionally comparable to nonfat cow's milk, which has 80 calories and 8 grams of protein in the same serving.
To ensure you're getting all that you need when using soy milk as a replacement for your cow's milk, make sure it's fortified with calcium. A healthy soy milk should meet 30 percent of the daily value for calcium.
Good for Heart and Bones
The protein in soy milk may help improve heart health by lowering cholesterol levels, according to the University of Maryland Medical Center. With 6 grams of protein per cup, soy milk can help you meet the recommended 25 grams of soy protein a day for heart health.
Drinking soy milk may be good for your bones, and not just because of the added calcium. The soy isoflavones, which are substances in the milk that have estrogenlike activity in your body, may help boost bone mineral density in women approaching menopause, according to UMMC.
May Be Good for Cancer and Memory
As for soy and cancer, the jury is still out. While some epidemiological evidence indicates that soy foods like soy milk may be protective against hormone-related cancers, such as breast and prostate cancer, the evidence is not conclusive. For women, drinking soy milk early in life may offer some protection against breast cancer, says UMMC.
There is also some indication that soy milk may help prevent decline in memory and cognition as you age, but more research is needed before claims can be made.
May Help With Weight Loss
Nutrients in cow's milk, specifically calcium, have been shown to be helpful to those trying to lose weight. Calcium-fortified soy milk may not be as effective at helping you lose weight as cow's milk, but it may be of some assistance, according to a study published in Nutrition, Metabolism and Cardiovascular Diseases in 2011.
A study published in 2007 in the Journal of the American Dietetic Association found drinking 24 ounces of soy milk, or nonfat cow's milk, a day could help with weight loss when combined with a calorie-reduced diet.
Watch Those Hormones
If you're a breast cancer survivor, there is some concern that the soy isoflavones may increase your risk of a recurrence. However, the American Institute for Cancer Research says that eating a moderate amount of soy -- 1 to 2 cups of soy milk a day -- is safe for survivors.
Concerns With Carrageenen
Manufacturers may add ingredients to soy milk to make it more palatable. Carrageenan is an ingredient often added to soy milk that helps thicken the drink. There are some concerns about carrageenan and health. The Center for Science in the Public Interest reports that some people may experience gastrointestinal distress when they consume the additive. Additionally, food-grade carrageenan contains small amounts of degraded carrageenan, which is considered a carcinogenic.
Source of GMOs
Genetically modified soy is grown on 91 percent of the soybean fields in the United States, according to the Institute for Responsible Technology. While research is preliminary, exposure to GMOs has affected growth and reproduction in hamsters, IRT reports. Due to the prevalence of GMO soy, it may be difficult to fully eliminate it from your diet, but if you're trying limit exposure, look for soy milk labeled as free of GMOs.