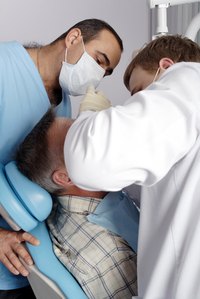 Promotional efforts in the neighborhood surrounding a new dental clinic are critical to building clientele. Since area residents are likely to visit the clinic nearest their homes, it's important to plan opening-week initiatives that encourage potential clients to visit the office and meet the staff.
Create Door Hangers for Local Marketing
Work with a graphic designer to create an eye-catching door hanger for a campaign in the areas near the new clinic to announce the opening. Entrepreneur Magazine suggests including a specific offer on the door hangers to entice potential clients. Mention a special discount for individuals who schedule appointments during opening week. On the door hanger, include your clinic's logo, contact information and the names of key staff and their credentials.
Make and Distribute Smile Bags
Send each client who visits during the first week of opening home with a "Smile Bag," which includes a toothbrush, a toothpaste sample and floss. Drop several business cards in each bag so that recipients have enough to share with friends and family members who may have missed the opening of the dental clinic. Not only will these bags prove beneficial to visitors, they will also help spread the word about the opening.
On-site Dental Health Seminars
Offer visitors real solutions they can take home and try on their own. Hold free seminars and demonstrations that teach attendees the importance of dental health. A demonstration on proper brushing may be useful for parents with small children, while all ages could benefit from a seminar on the benefits of flossing. Appeal to the mature crowd with a seminar on denture maintenance. Treat visitors to a healthy-snacks seminar and stress the importance of eating foods that promote dental health. Demonstrate how to make snacks, like trail mix, that both kids and adults can enjoy. These seminars are an opportunity to show off to potential clients the knowledge and skills of your staff and their dedication to dental health.
Social Networking Strategies
Social networks make it easier for local businesses to reach out to community members. Start a page on a site like Facebook, add residents who are within the area you plan to service as friends. Use the page to announce your opening, promote giveaways and customer discounts. The page can serve as a place where you communicate tips and ideas about dental health.