Whether the climate provides real snow or not, outdoor winter carnival guests can still celebrate winter while participating in a variety of winter games. Some games can be played only outdoors, while others may be moved indoors if necessary. If possible, schedule a few activities indoors so that carnival guests can warm up.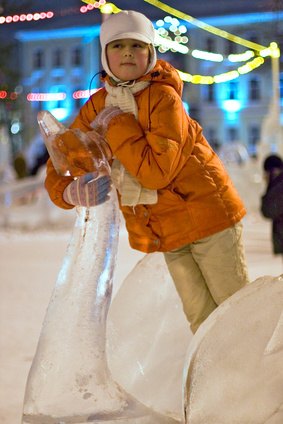 (winter games 21 image by DMITRY BOKOV from Fotolia.com)
Cut several holes into a flat piece of plywood. If real snow covers the ground, have carnival guests make snowballs and toss them into the holes. If real snow is not available, cover foam balls with glue and silver glitter to represent snowballs. Award successful players with candy or small plastic toys.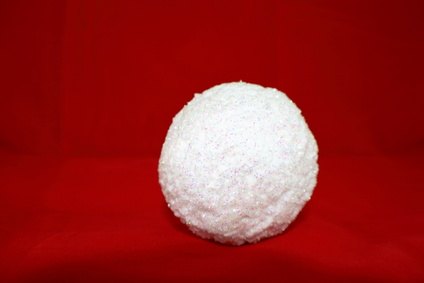 snowball on red background image by ennavanduinen from Fotolia.com
Outdoor winter carnival participants can make sock snowmen. Set up a craft table outside and provide the carnival guests with long, white socks, rubber bands, markers and stuffing. Purchase bags of cotton balls or pillow stuffing from a craft supply store. Instruct the children to stuff the toe of the sock until it makes a ball about the size of their fist, then tie it off with a rubber band. Stuff the middle portion of the sock until it forms a ball and tie it off. Do the same thing with the third section. Instruct participants to use the markers to draw the eyes, nose, mouth and buttons.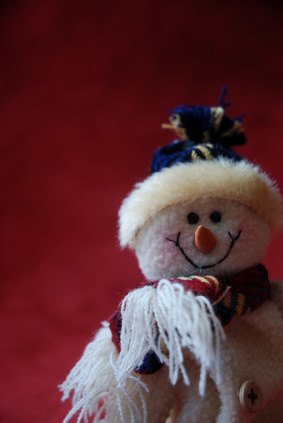 snowman image by Neil Denize from Fotolia.com
Divide carnival participants into two groups. Each group should form a circle, and anyone wearing gloves should remove them. Give one person in each group an ice cube. The first person rubs the ice with his hands for a few seconds and then passes it on to the next person. Each group must continue rubbing the ice cube and passing it around until it melts. The first group to melt the ice cube wins.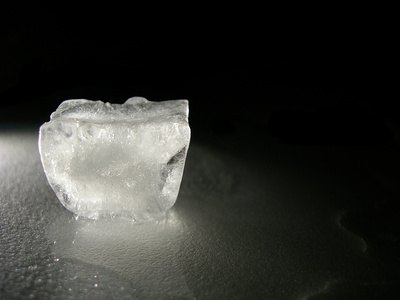 Ice cube image by vidak from Fotolia.com
At least one day prior to the carnival, place several water balloons in the freezer. During the carnival, ask the guests to form a circle. Give them a frozen water balloon and instruct them to play the game like the game of "hot potato," passing the frozen water balloon around the circle while carnival music plays. When the music stops, the person holding the balloon is out. Continue the game until only one person remains and wins the game.
green balloon image by Vjom from Fotolia.com
Allow carnival guests to make snow sculptures. If the climate does not provide real snow, provide materials such as cotton balls, white foam, white packing peanuts and glue. Provide a place where finished sculptures may be viewed by other carnival guests. Have the guests vote on their favorite snow sculpture. At the end of the carnival, announce a winner and provide a prize such as an empty mug with a package of powdered hot cocoa stuffed inside.
boot from a snow image by 26kot from Fotolia.com
Promoted By Zergnet