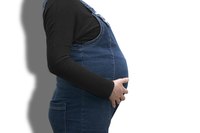 At eight weeks after conception, the baby has fingers and toes that resemble that of an amphibious creature. She has eyelids, the start of a set of lungs and even nerve cells connecting in the brain. Although your baby is developing quickly, she is still only the size of, and similar in shape to, a kidney bean. That's what's going on with her; now let's explore how you must be feeling.
Fatigue
The hormones that work to ensure a healthy pregnancy are like sedatives to mothers-to-be. One hormone in particular, progesterone, may be the culprit behind your tiredness. Another cause of pregnancy fatigue at eight weeks is the body's need to increase the amount of blood flowing to the heart. The increased blood flow means increased heart activity and thus fatigue.
Urination
The increased need to urinate begins at week six but is more pronounced by week eight. Contrary to popular belief, the baby is not big enough to press on your bladder, causing the urination increase. Instead, the increase in blood flow means more blood to filter through the kidneys. The excess waste is expelled in the form of urine. Pregnant women also urinate more frequently at night because the fluid built up in the limbs can travel to the kidneys more easily when the body is lying down.
Nausea
By the eighth week of pregnancy, nausea will appear in the form of morning sickness. Although it is widely known that morning sickness occurs at any time of day, the name for pregnancy nausea still holds. The illness is triggered by certain smells, tastes and even by looking at certain things. According to an MSNBC report, morning sickness is believed to have a protective purpose for the pregnancy. It may just be an evolutionary security measure to alert the mother to dangers like poisons.
Pain
At eight weeks of pregnancy, you may begin to feel aches and pains. Tender breasts and back and abdominal pains are common. The breasts swell as they prepare to produce milk for the baby to come. Abdominal pains occur as the uterus and baby grow, stretching the abdominal muscles and skin. Back pains are experienced as well because of the growing and changing uterus.