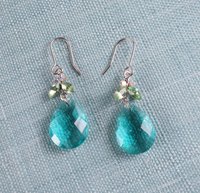 Earrings have been popular jewelry for both men and women for many years. Today, the types and styles vary from simple to those heavily adorned with jewels. With so many different varieties of earrings on the market, it is understandable that there are an equal number of closures and hinges for these pieces. Some of the most popular types include hinged clips, French wire, threaders, hinged snap back and the Omega back.
Hinged Clips
Hinged clips are used on earrings designed for use by people whose ears are not pierced. The earrings do not feature a post that goes through a pierced hole. Instead, the earring attaches to the ear with a hinged clip that holds it in place.
French Wire
French wire closures are popular on dangle earrings. These are designed for pierced ears and feature a piece of wire that resembles a fish hook. The wire slides through the pierced hole and holds the earring in place.
Threaders
Threaders resemble thin, long chains similar to those used in popular bracelet and necklace designs. Typically threaders are made using gold or silver. The chain passes through the pierced ear using a motion similar to threading a needle. Threaders typically feature a single chain but may include a few strands in the front.
Hinged Snap Back
The hinged snap back operates in a similar fashion to the hinged clip, however it was designed for use in pierced ears. The earring design spreads open with a hinge in the design. A person inserts a curved post into the pierced hole in the ear. Then, the curved post locks into a latch on the earring back to secure it into place.
Omega Back
The Omega back is another variation of a hinged earring closure design. The Omega back features a hinge in the earring design that allows the earring to be opened. The wearer then inserts a straight post into the pierced hole in the ear. The earring back snaps closed using the hinge design and the post enters an "o" shaped closure to lock the earring in place.