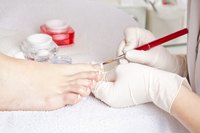 Nail salon businesses seem to be flourishing and most small communities have a few to choose from. Make your salon stand apart from the rest by using a dynamic and memorable business logo that will attract clients again and again. Allow it to reflect some aspect of the business itself or get creative and relate it somehow to your family or business name. Brainstorm, then talk to your printing company to incorporate bold bright colors for the greatest impact.
The Bottle
The nail polish bottle is instantly recognizable among manicure enthusiasts, so take advantage of that fact by using it as your salon logo. Have an artist make a modern-styled line drawing of a polish bottle and then situate it at an angle to add more interest and movement to your design. Print the line drawing in color to make it more eye-catching.
Fingerprint
A broader look at the nail salon logo will incorporate a fingerprint along with a slogan like "Make Your Mark with June's Nails." Use a colored fingerprint design to create your own spin on the classic fingerprint logo. Use a raised print on your business cards and printed materials to add that tactile quality to the card your clients will never forget.

Polish Swathe
Nothing is more luxurious than a pearly pool of nail polish, and a nail salon logo design can incorporate this trade product in its logo. Use a thick swathe of nail polish as if just brushed on paper from a salon bottle as your logo and make a color statement by using a bold pearlized color that can be reproduced on all your business cards, flyers and price lists. Check with your advertising printer first to see what color options you have, and then create your logo.

Claw Marks
Although you wouldn't want to encourage a client to use her nails as a weapon, animal claw marks as a business logo for your nail salon would make your salon stand out and imply that your techs can create "wild" designs and fashion nails that leave their mark. Imagine claw marks that run down a few inches and have a ragged interior edge to make the graphic more interesting. Incorporate the "wild" logo into your store slogan.
Equipment
Nail files, emery boards, clippers and cuticle scissors are all tools-of-the-trade for a nail salon, so consider these shapes for your nail salon logo. Use a front, close-up view of nail clippers in metallic ink for an interesting salon logo or a combination of tools in silhouette for a more dynamic logo. Be sure to use color in your logo to attract more attention on your business cards and printed materials.