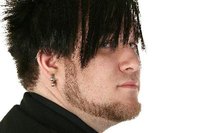 All earrings have gauges, or sizes to describe the diameter of the rods that stick into the pierced holes in the ears. However, the phrase gauge earrings has come to describe earrings with larger than normal diameter or gauges that stretch the holes in the earlobes to make them much larger. There are several types of gauge earrings that set into larger earlobe holes, help to stretch earlobes or simply provide the illusion that the ear lobe has been stretched out.
Taper Gauges
Taper or expander gauges work to stretch the earlobe holes gradually. Taper are often shaped like cones, tapering from a small gauge to a larger gauge and are held into place by rubber "O" shaped rings on the skinnier end. Tapered gauges are also available in curly shapes like spirals, "S" shapes and even crescent shapes. The curved gauges normally require the use of two "O" rings, one on each side of the earlobe to stay in place and not slip out. This type of gauge earring is the traditional type found in the ears of Hawaiian men and the best type of gauge to use to get the earlobe hole to the desired size.
Plugs
Plugs are a variation of the gauge earring that does not taper. Plugs are available in one solid, single gauge size. Plugs are available as both solid pieces or with a central hole called a flesh tunnel. The flesh tunnel type of gauge or plug earring allows you to more easily see the gauge size and that the gauge is real. Plugs are available with a single or double flare, meaning that in some designs, the plug flares our a tiny bit wider on one or both sides to hold the plug gauge earring into place without the use of "O" shaped rings.
Fake Gauges
Fake gauges have the same gauge or rod diameter as traditional earrings. The body of the fake gauge earring tapers slightly from one end to the other, with a small gap in between where the small rod attaches the two pieces. The two pieces pull apart at this small, traditionally gauged rod to allow the rod to slide through the ear hole and then re-attach to the back of the fake gauge piece.