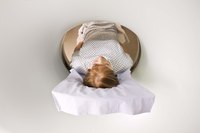 Once requiring extensive and extremely invasive exploratory surgery, hernias can now be detected and precisely located during a simple, noninvasive CAT scan. Similar to a quick and painless x-ray, CAT scans take vivid, two-dimensional images of bones, tissues and organs. CAT scans help a doctor confirm a hernia diagnosis and determine a surgical plan with the least amount of recovery time.
Hernias
Hernias form when organs or fatty tissue protrude through muscle or connective tissue. There are different types of hernias that are classified by their location. The most common hernia is the inguinal hernia, which is when the bladder or part of the intestines poke through the abdominal wall near the groin. Other types of hernias can form around previous surgical sites, near the femoral artery in the upper thigh, navel and diaphragm. WebMD explains that "anything that causes an increase in pressure in the abdomen can then cause a hernia, including obesity, lifting heavy objects, diarrhea or constipation, or persistent coughing or sneezing."
CAT Scan
A CAT, or CT, scan is an x-ray that uses computer special technology to create detailed images of the inside of the body to help doctors make accurate diagnoses. CAT scans are noninvasive and painless. RadiologyInfo.org claims that the CAT scan is "one of the best and fastest tools for studying the… abdomen and pelvis because it provides detailed, cross-sectional views of all types of tissue."
Performing the Scan
Before your CAT scan, you may have to drink a liquid contrast or you may receive the contrast through an IV. The contrast helps the machine take clearer images. During a CAT scan for a hernia, you will be positioned on a table, either lying on your back or your side. The table will move through the machine quickly, then back in and out slowly while the images are being collected. The technician will instruct you to remain still and occasionally hold your breath.
After the Scan
Once the computer has collected the images sent to it by the scanning equipment, a radiologist will examine the images and create a report based on the images. This report and copies of the images will be sent to your physician. Your physician will look over the images and the report and, based on the results, may request you to make a follow-up appointment. If the images confirm that you have a hernia, the doctor will discuss the surgical procedure and help you set up the necessary medical appointments.