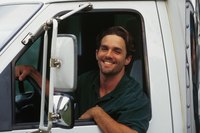 How much a CDL-carrying driver makes depends on such factors as experience, region and type of vehicle driven. A new CDL (commercial driver's license) driver may earn $30,000, but salary increases based on several of those factors. However, some CDL drivers, particularly truckers, work long hours, traveling long distances. Before obtaining your CDL, understand the pros and cons of pursuing a career as a CDL driver.
CDL
A CDL, or commercial driver's license, is a required permit to operate vehicles with a gross weight over 26,001 lbs. License designations are Class A, Class B and Class C. A Class A permit allows you to operate a commercial vehicle weighing over 26,000 lbs. and passenger vehicle weighing over 10,000 lbs. A Class B permit allows for operation of commercial vehicles weighing over 26,000 lbs. and passenger vehicles under 10,000 lbs. Class C is a permit for operating vehicles under 26,000 lbs. and vehicles with a capacity to hold 16 or more passengers. You have to be at least 21 to drive an 18-wheeler vehicle cross country and at least 18 to drive intrastate.
Salary
Being a driver and obtaining a CDL may not boost your salary significantly at first. Many employers look at number of years driven, driving record and type of vehicle you want to operate as a basis for making a salary determination. The amount you make also depends on the region. For example, according to SalaryExpert.com, the average salary for a Class A driver in New York City is $56,851 compared to $45,117 in Houston, Texas as of July 2011. Typically, Class A drivers who drive cross country receive more pay.
Pay Rates
A cross-country trucker with a Class A permit earns money based on the number of miles he drives. A Class A driver earns about 19 cents per mile compared to 44 cents for an experienced driver. On an hourly basis, inexperienced drivers receive $14.33 compared with $17.95 an hour for a driver with ten or more years of experience. Drivers with 20 or more years company experience may receive $18.50 an hour or more. The rates also vary according to region.
Experience
Many insurance carriers require a minimum age limit of 21 and in some cases 25 years old, making it difficult for young independent truckers to receive work.
Consideration
Getting a CDL opens the door for driving a combination of large vehicles, which should increase your pay. You may not see the benefits of getting your CDL immediately without any meaningful experience. The amount of the increase depends on what your salary was before you receive your CDL. Check with the Department of Motor Vehicles in your state regarding specific requirements for obtaining a CDL.