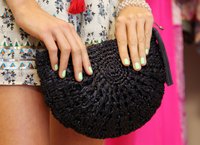 Look no further than the '80s for nail inspiration. The decade of shiny leggings, Members-Only jackets, shoulder pads and legwarmers also offered trendy nail and makeup looks that were eye-catching and bold. When you're headed to an '80s party or just want to go retro, swipe a flashy pop of throwback color on your nails in 60 minutes or less.
Shimmer and Shine
To unleash your inner '80s, swipe on a metallic nail color. Wear a glittery manicure in shades like silver, iridescent blue, gold or pewter on a summer lunch date or when you're sunning by the pool. Coordinate your shiny digits with monochromatic tan, blue and white ensembles for maximum impact and style. If you want less drama for daytime, apply a mattifying top coat to tone down the sparkle on your nails.
Pretty Press-Ons
Back in the '80s, when you didn't have time to wait for the polish to dry, press-on nails were your go-to beauty product. Update retro fake nail color with trendy and colorful mani stickers that are easy to apply -- and keep you chip-free for a week or more. If '80s-themed leopard, glitter or color-blocked nail adhesives feel too daring for daytime, use these designs on your thumb or ring finger only, as an accent to your basic nail polish colors.
Neon Nails
Whether you were rocking neon green jewelry or hot pink legwarmers with your "Frankie Says Relax" tee, nothing telegraphs '80s style like the neon color trend. For a colorful take on these glow-in-the-dark hues, swipe a vibrant yellow nail color on your digits to accent your white jeans, a red silk tank, and black, white and yellow wedge sandals. Or paint neon green, pink or blue polish on your toes for a bright and happy pedicure look.
Edgy Florals
Go for a manicure look that is both edgy and sophisticated. Up the ante on your basic black, deep purple or dark blue manicure by painting on pretty floral designs. A few neon green, yellow or blue flowers over your dark-colored pedicure will take you back.