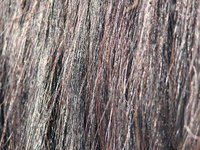 Upon discovering head lice, many people seek treatment from prescription or over-the-counter products. Seeing living lice after the first treatment is disconcerting, but don't panic; you might just need a second treatment and a comprehensive approach. Thorough combing and preventative measures prevent reinfestation after a treatment.
Do Another Treatment
Most over-the-counter lice treatments recommend a second treatment after nine days. Carefully follow the directions on the packaging. Leave the treatment in the hair for as long as directed before rinsing. Change into clean clothes after rinsing.
Comb Thoroughly
Combing the hair with a nit comb greatly reduces the number of lice and eggs. Carefully comb all of the hair in sections from the root. Repeat the combing process every two or three days for two to three weeks to remove newly hatched lice that may cause reinfestation.
Evaluate the Treatment
After the second treatment you should evaluate whether or not the treatment is effective. Look at any lice removed from the hair with the nit comb. If the lice are mostly dead or moving slowly, the treatment is working. The treatment isn't effective if most of the lice are alive and move quickly, and you should consult your physician or try another type of treatment.
Prevent Reinfestation
Taking preventative measures helps reduce the risk of reinfestation. Change into clean clothes after bathing. Change the bedding after every treatment and launder all bedding and clothing in hot water. Use a vacuum to clean furniture used by an infested person. If lice have affected multiple people in your household, treat everyone simultaneously.