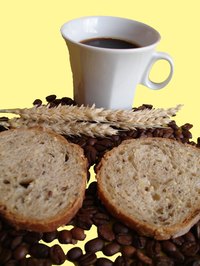 A business model is a comprehensive illustration of the ways a company will create value for its customers and earn revenue for itself. A business model should include any elements that will support a company in these objectives, such as marketing information about the type of customer need that the company's product or service addresses, as well as a strategy for meeting that need.
Value
In order for a business to be successful, its products and services must create value for customers; that is, it must be worth a customer's while to purchase an item and then come back for more. A product or service can create value by combining materials into a whole that is greater than the sum of its parts, such as a salad dressing recipe. Alternately, it can create value by integrating information in a way that saves a customer money, such as a home energy efficiency audit. A business model should identify the specific mechanism a company will use to make its products or services worth buying.
Marketing
In order to succeed, every business must find ways to reach its customers, to communicate what it has to offer and give its potential audience a reason to buy. Marketing can be as simple and inexpensive as building a reputation and spreading it via word of mouth, or it can involve extensive advertising and outreach. A business model should include an overview of a company's marketing plan in order to set the stage for disseminating information and creating demand for its products and services.
Revenue
A business model should include an overview of a company's approach to generating revenue and meeting expenses. Most businesses start with some outside revenue, such as a loan or investment. In order to sustain itself over the long-term, a business generates additional revenue through sales and also develops budgets for purchasing materials and paying employees that enable the company to generate a profit. A business model should provide information about payment options, revenue streams and gross and net profit margins.
Competition
A business model should include information about how a company is going to set itself apart from its competitors, giving potential customers a good reason to buy its products rather than the other available options. A competition strategy can be based on providing value that competitors cannot match, or developing specific features of a product or service that will deliberately make it stand out from the competition.