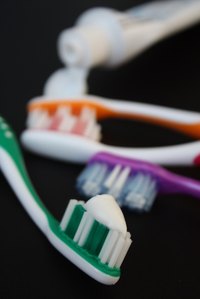 A dental assistant helps keep procedures and treatments going smoothly by handing instruments and other materials to the dentist and keeping the patient's mouth rinsed and clear. She sets up dental instruments ahead of time and washes and sterilizes them after use. Dental assistants commonly have office duties as well. A dental assistant in Mississippi typically makes a bit less than the median national salary for this occupation.
Requirements
Dental assistants generally receive training on the job, but some employers require education from a technical school or community college. In addition, states have different formal training requirements for specific job duties. To legally take dental X-rays in Mississippi, dental assistants must have a radiology permit from the Mississippi State Board of Dental Examiners.
Salary Range
The median nationwide salary for a full-time dental assistant was $32,910 per year as of January 2011, according to Salary.com. Dental assistants generally are paid by the hour, and the average annual salary translated to an hourly rate of $15.80 per hour. About half of all dental assistants work part-time, according to the U.S. Bureau of Labor Statistics, but many hold more than one job.
Comparisons
Dental assistant salaries in Mississippi vary somewhat by city. Those in Hattiesburg were making a median salary of $26,620 per year in January 2011, for instance, while dental assistants in Jackson had an annual median salary of $30,590. Dental assistants in Tupelo were earning a median salary of $27,665 per year, in Columbus $28,105, and in Greenville $28,810. The bottom 10 percent of earners had annual pay below $20,440 and the top 10 percent more than $36,230. Those in the middle 50 percent of the earnings range were making $23,380 to $33,550 per year.
Outlook
Dental assistants have excellent job opportunities, according to the U.S. Bureau of Labor Statistics. Employment is likely to grow over 30 percent from 2008 to 2018, making the career of dental assistant one of the fastest-growing of all occupations. The population continues to increase, and more dentists are employing dental assistants to handle routine tasks so they can accept additional clients. Also, middle-aged and elderly people are likely to retain their teeth much longer than in years past, and they continue to need dental care.