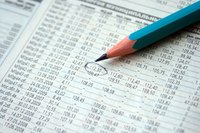 Stock chart indicators are technical analysis tools that can add a deeper level of understanding to a stock's price movement. All stock indicators are created by formula, which is taken from a calculation using different combinations of a stock's price and trade volume data. There are several primary indicators that are well-suited for short-term trading analysis.
Bollinger Bands
Bollinger Bands are created by calculating a stock's average volatility. They are plotted directly on a stock price chart as an upper and lower price band that represents the highs and lows of the stock's average volatility range. Short-term traders often use these bands to buy when the price has fallen to the lower band or sell when the price rises to the upper band.
Stochastic
The stochastic indicator is an oscillator that is set below the price area of a stock chart. It is a line that is plotted on a graph that measures between 0 and 100. The stochastic indicator reveals whether a stock is relatively overbought or oversold. Short-term traders use this indicator to buy when the stochastic line moves below 20, indicating the stock is oversold, and sell when then stochastic moves above 80, indicating its price is overbought.
Moving Average Convergence-Divergence
The Moving Average Convergence-Divergence, or MACD, indicator is simpler than its name suggests. It is plotted on the bottom of a price chart as two separate moving average lines—a 12-day average and a 26-day average. The MACD offers short-term traders buy and sell signals. When the 12-day average converges and crosses up over the 26-day average, a buy signal is created. When the 12-day average crosses down over the top of the 26-day average, a sell signal is provided.
Relative Strength Index
The Relative Strength Index, or RSI, is an oscillator, like the stochastic indicator. It is plotted on a similar graph between 0 and 100. RSI compares the performance of a stock against the performance of the S&P 500. Short-term traders use RSI to find areas where prices should reverse higher or lower. In an up-trending market, a stock should reverse higher when its RSI line is between 40 and 50. In a down-trending market, the price should reverse lower when the RSI line is between 50 and 60.