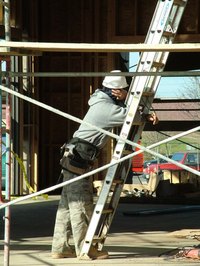 The construction industry employs many different types of workers, including carpenters, construction managers, cement laborers, construction laborers and administrative personnel. Construction workers can build residences or work on commercial buildings, such as offices and hospitals. Most construction laborers get paid by the hour, while construction managers often earn salaries and bonuses. The wages for construction workers can vary by experience, geographic area and company size.
Average Wages
Construction workers in general earn an average income of $21.87 per hour or $45,490 per year, according to the Bureau of Labor Statistics. Construction laborers earn $14.35 per hour or around $30,000 per year. Construction managers earn considerably more at $38.39 per hour or $79,851 per year, based on a 40-hour work week. CBSalary.com lists the average construction worker salary at $40,165 per year, which includes all industries and job types. Additionally, 2011 Payscale.com data indicates that the average construction laborer makes a median salary of $14.29 per hour or slightly less than $30,000 per year.
Salary by Job
Besides construction laborers and mangers, here are the average hourly rates for other types of construction workers, according to the Bureau of Labor Statistics: first line supervisors -- $27.95; plumbers/ pipe fitters/steamfitters -- $21.94; electricians -- $22.32; construction equipment operators -- $18.88; carpenters -- $18.72; cement masons/concrete finishers -- $16.87; painters/maintenance -- $15.85; heating & air/refrigeration installers -- $19.08. Additionally, Payscale provides median hourly wages for the following construction employees: administrative assistant -- $13.89; office manager -- $15.49.
Years of Experience
Construction workers, like other workers, can expect to earn more with experience. For example, a construction worker with less than one year of experience earns a median salary of $12.77 per hour, according to Payscale.com. Those employed in the construction industry with one to four years of experience can expect to earn a median $14.95 per hour. Construction workers with between five and nine years of experience earn $17.60 per hour. And construction workers with 10 to 19 years of experience earn a median salary of $19.93 per hour. Once a construction worker has 20 or more years of experience, he will typically earn a median $22.80 per hour.
Wages by State
Construction workers earn more in some states than others. For example, California has the highest median hourly rate for construction workers at $20.31, according to Payscale.com. Here are the median hourly rates for construction workers in various other states: Texas -- $16.26; Florida -- $15.77; New York -- $19.27; Pennsylvania -- $17.42; Illinois -- $19.34; Ohio -- $17.75.