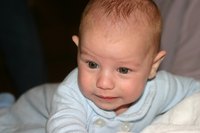 Midwifery can be a very rewarding career for those who enjoy working with all sorts of people, are good at dealing with highly emotional circumstances and who have a passion for the work. One path to becoming a midwife is by going through nursing school, becoming a registered nurse and then going on to a Master's Degree program in certified nurse midwifery. This is the path taken by those who will eventually want to work in or for a hospital or other private health care provider. Certified midwives, by contrast, did not attend nursing school, but rather pursued their education independently and through apprenticeships. These midwives usually attend births at home or in a birthing center.
Anatomy and Physiology
A midwife needs to understand the human body and how each system works within it. Most courses in anatomy and physiology examine all of the systems, such as the endocrine, digestive, respiratory, lymphatic and reproductive systems as well as the skeleton, muscles and nerves. Some courses use cadavers to examine the systems.
Basic Nursing Skills
Although not required coursework of those choosing to become a midwife without a nursing degree, some basic nursing skills are required of all midwives. For example, a licensed or certified midwife needs to understand CPR, first aid, infant care and how to do basic assessments like taking pulse and blood pressure, hygiene procedures and other basic medical skills. Some midwives need to administer medications or draw blood, so these skills are also required. In addition, it is important for midwives to understand nutrition and how it affects women and babies.
Clinical Midwifery Skills
Aspiring midwives need to have hands-on experience helping women deliver babies and dealing with any emergencies that could happen. A midwife needs to be able to physically assess her client, evaluate the baby and be prepared to properly deliver the baby in a variety of circumstances. In addition, a midwife needs the skills necessary to be able to get a mother additional medical attention if she requires it and act quickly in an emergency. Courses in prenatal and postpartum care are just as important as learning how to deliver the baby. In addition, a midwife needs to be able to help care for the baby when it is first born.
Laws and Ethics
Each state has its own requirements and regulations regarding midwifery practice. It is up to an aspiring midwife to find out what her state's requirements are and meet them in order to practice legally. Many midwifery programs also offer coursework in ethics. Ethics coursework will help a midwife understand what her legal and ethical obligations are to every client she helps. Understanding these will also help her determine the right path when problems arise.