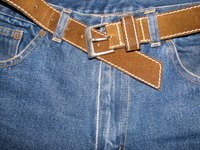 YKK is a zipper manufacturer founded in Japan in 1934 by Tadao Yoshido. As of 2011, YKK Corp. operates more than 118 affiliated companies doing business in more than 70 countries with 40,000-plus employees. YKK entered the United States market in 1960. The zippers are used to make clothes, luggage and sporting goods and are available in a wide ranges of styles, sizes, colors and materials.
Structure
A YKK zipper has three main parts: the elements, the slider and the tape. The elements are the teeth -- the parts on both sides of the zipper that mesh the zipper together when it is closed. When both sides of the element are engaged it is called the chain. The slider has a tab-pull, which is the part you grab to pull the slider up or down to separate or join the elements. YKK manufactures its own tape, the material that holds the elements and is sewn into garments. Tape material is often polyester but also can be cotton, vinyl or a synthetic fiber. At the top and bottom of the zipper are stops to keep the slider from moving off the elements.
Sliders
YKK zippers offer a variety of sliders. The non-lock slider has a tab-pull that will not lock in any position, while the automatic slider locks when no force is put on the tab-pull. Semi-automatic slides lock when the pull-tab is lowered and unlock when it is raised. Sliders made for jeans are semi-automatic. Also available are pin lock sliders, reversible sliders, double-pull sliders and sliders that can be locked with a key. Sliders are made of metal or plastic.
Types
Types of YKK zippers include the standard metal zipper in five sizes ranging from 3 inches to 10 inches. The company makes a special zipper for jeans for the front of the garments. Another style is corrosion-resistant, gloss-polished and smooth to the touch. The luxury zipper is plated and polished, and available in surface colors including gold and silver, as well as black nickel and antique finishes. Coil-style zippers come in five sizes ranging form 3 inches to 10 inches. The coil style is also available with concealed elements.
Functions and Weights
YKK zippers have different functions depending on the type of garment or product. The zippers can have a closed end bottom or an open bottom. The zipper can have double sliders and two-way separators. Zippers can be lightweight, medium, heavy or extra-heavyweight.
New Products
As of 2011, the newest YKK zipper products available include the high-visibility NFPA zipper. The durable zipper offers flame protection and is made in the United States for compliant use in outerwear, vests, pants and sweatshirts. A newly designed bottom stopper allows product branding. Another YKK zipper line is made from recycled materials such as discarded polyester and PET bottles.