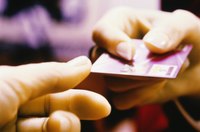 Being an authorized user on a credit card has a host of benefits that include giving you more access to funds and improving your credit profile. Adding someone to your credit card account as an authorized user lets you help out a family member or business associate, but it also puts you both at risk based on how each person uses the card.
It Can Help You Build Credit
If you're someone who's never had a credit card, student or auto loan, mortgage, gas or store charge card or other credit account, you have no credit history that lenders can use to judge your creditworthiness. The easiest way to build a credit history might be to become an authorized user on someone else's credit card. You get credit for the card's use, even if you don't use it. Make sure you and your co-user make your payments on time, don't go over your credit limit and don't lose the cards.
You Can Repair Credit
After a bankruptcy, collection, loan default or other incident that damages your credit profile, status as an authorized user on a card can help you rebuild your credit. Just as proper use of a credit card can help a new user build a credit history, properly using a card on which you are an authorized user can help you start creating a history of making payments on time, which raises your score.
It Can Damage Your Credit
If you are an authorized user of a card, the other person on the card can damage your credit if she goes over the card's limit, skips a payment or pays late. You are responsible for the other user's behavior even if you never use the card. Even if the other user doesn't make a late payment or go over the card's credit limit, maxing out the card can lower your credit score. A primary cardholder can limit the damage caused by an authorized user he adds by limiting the amount of credit the added user can access.
Your Score Can Rise or Fall
Your credit score rises and falls based on your good use of credit and your ratio of debt to available credit. The less credit you use, the higher your score. If you become an authorized user on a credit card with a zero or very low balance, you now have more credit available and a better debt-to-credit ratio. If you become an authorized user on a card that's close to its limit, or your co-user uses much of the credit, your debt-to-credit ratio rises. If the primary cardholder closes the account before you are about to buy a car or apply for credit for something else, your score might drop enough to get you denied by lenders. Opening a new account can lower your score because lenders take into account how old or new your accounts are.
You Can Increase Your Access to Capital
As an authorized user on a credit card, you have access to more credit, which can help you pay bills or make purchases for a small business. You might be able to use your new credit to transfer a balance, eliminating a high interest rate. If your credit score goes up as a result of being added to someone else's card, you might be offered more or new credit by lenders.